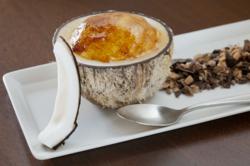 Honolulu, HI (PRWEB) September 12, 2012
For a growing number of travelers, eating well on vacation has evolved beyond surf and turf to seeking out farm-to-table cuisine that offers a local taste of place. As the trend continues, the Hawaiian Islands have emerged as one of the most interesting regions for local, sustainable cuisine, and chefs at Hyatt Resorts and Spas in Hawaii are leading the culinary charge through the companys new global food initiative. Hyatts new food and beverage philosophy Food. Thoughtfully Sourced. Carefully Served. has been implemented at Hyatt resorts on Oahu, Maui, and Kauai to offer guests the freshest, healthy fare from island purveyors.
At Hyatt Regency Waikiki Beach Resort and Spa, Hyatt Regency Maui Resort and Spa, and Grand Hyatt Kauai Resort and Spa, visitors can expect locally sourced, chef-driven culinary experiences that satisfy their palates and their conscience: changes include at least five local ingredients on each menu; exclusive use of cage-free eggs; and gluten-free and vegetarian options on all menus.
Hawaii is an abundant agricultural region with rich food traditions, and this shift allows visitors to appreciate its culinary gifts as locals do, said Susan Santiago, vice president of food and beverage, North America, Hyatt Hotels & Resorts. And for some travelers, its also meaningful to know that their food choices while on vacation are helping to ensure a sustainable future for a destination theyve come to love.
Hyatt Regency Waikiki Beach Resort and Spas Executive Chef Sven Ullrich, who crafts the menus at the resorts signature restaurants, Shor and Japengo, says Hyatts new philosophy has validated his own approach to cooking, rooted in sourcing the best ingredients by word-of-mouth from local producers. From local butter to Hawaiian sea salt, artisanal cheeses to island-raised pastured beef and pork, the region has so much to offer, said Ullrich. Why fly in food from the mainland when such a bounty is available in our backyard?
Upon check-in, gluten-sensitive guests can request a gluten-free dining guide at Grand Hyatt Kauai Resort and Spa outlining options available at all six of the resorts dining outlets. Those avoiding gluten for medical or dietary reasons can still enjoy flavors of Hawaii with locally sourced ingredients we incorporate in our dishes including Hawaiian chilis grown in our resort garden, Molokai sweet potato, and Surfing Goat Dairy cheeses from Maui, said Matt Smith, executive chef at Grand Hyatt Kauai Resort and Spa.