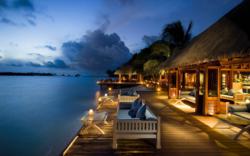 Dubai, United Arab Emirates (PRWEB) February 13, 2013
Founded in Dubai in 2012 by Blagoja Hamamdziev, John Fohr and Marc Meunier, TravelerVIP.com is a unique curated hotel booking website that turns ordinary online reservations into a VIP experience for consumers in the region.
This investment round is led by BECO Capital, one of the top venture capital investment firms in the Middle East, and a consortium of angel investors, including Soha Nashaat, former CEO of Barclays Wealth MENA & Turkey and Jakob Beck Thomsen, CEO of SaxoBank MENA & Turkey.
The website initially gained popularity for its private sales, offering members up to 50% discount on luxury hotels. It has since expanded its model to include a collection of over 1,000 hand-picked hotels that are curated by its Arabic and English editors and come with free perks, like WIFI or complementary upgrades, and a strict lowest rate guarantee.

We are excited to be backed by some of the top early-stage investors in the region to help us expand and improve our user experience. Since our launch last year we have listened to customer feedback as part of our ongoing brand evolution and this investment allows us to further expand offerings to benefit regional travelers, said Blagoja Hamamdziev, CEO, TravelerVIP.
Dany Farha, CEO of BECO Capital, who co-founded Bayt.com and was an early-stage investor in Gonabit.com, said: "We believe that TravelerVIP.com raises the bar for Middle East online travel. Their model has proven to be wildly successful in the US and Europe and fills a real gap in the Middle East market for travel enthusiasts who appreciate great value.
TravelerVIP is headquartered in Dubai and is one of the first members of the Majid Bin Mohammed Innovation Center in5 which is an incubator for promising companies in the UAE
About TravelerVIP
TravelerVIP.com is the Middle Easts first online travel club, helping travelers book memorable travel experiences at exclusive prices. TravelerVIP features a collection of over 1,000 hotels, hand-picked and curated by its team of English and Arabic editors. Every week, members have access to private sales at prices up to 50% off. All users have access to the TravelerVIP collection, which are personally verified and come with a strict lowest price guarantee. Many hotels in the collection offer exclusive perks to anyone booking from TravelerVIP.com and all travel experiences are tailored for the Middle East traveler. For more information, visit http://www.travelervip.com.