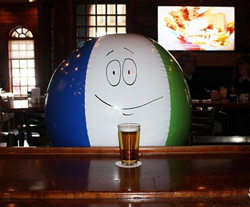 Traverse City, MI (PRWEB) February 12, 2015
Tourism officials in the Lake Michigan resort community of Traverse City have adopted an amiable beach ball named Moe to play the main role in a new social media marketing plan.
Beginning this month, the 30-inch inflatable character is being featured in a series of weekly Facebook posts from Traverse City Tourism called Mondays with Moe, in which he (or she) can be seen enjoying some of Traverse Citys best-known tourist attractions snowboarding down the slopes at Mt. Holiday Ski Area, for instance, or sampling a handcrafted ale at the Blue Tractor Cook Shop.
According to Digital Marketing & Design Specialist Coryn Briggs, Mondays with Moe is a new campaign to highlight some of the communitys best assets while increasing viewer engagement on social media.
We wanted to show off some of the unique things about Traverse City in a fun, quirky and very visual way, said Briggs. Well use Twitter and Instagram every once in a while, but this will mostly be aimed at our Facebook audience.
Traverse City Tourisms rotund new ambassador took shape over several weeks of discussions in which several other mascots including a large cherry and a toy raccoon — were proposed and discarded. The beach ball, decorated with a cartoon face, is a nod to the communitys fame as a summer beach resort. A full schedule of appearances has been set up for 2015, and the campaign has already created significant interest.
Its not just on Facebook, said Traverse City Tourism publications manager Jennifer Case. The places where well be taking Moe are getting excited about the idea, too. Thats something we hadnt really expected.
Organized in 1981 as the Traverse City Area Convention and Visitors Bureau, Traverse City Tourism is the areas official Destination Marketing Organization. Its focused mission is to stimulate economic growth by attracting convention business and developing leisure tourism.