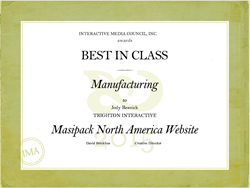 Orlando, FL (PRWEB) May 14, 2015
The Interactive Media Awards (IMA) has given Trighton Interactive a 2015 Best in Class designation for web design and advanced development of the North American Masipack website. According to the IMA, The Best in Class award is the highest honor bestowed by the Interactive Media Awards. It represents the very best in planning, execution and overall professionalism.
This past year, Masipack, a global manufacturing company providing complete and innovative packaging solutions for multiple industries since 1987, decided it needed an enhanced, contemporary web presence to help expand its reach in North America. The Brazilian-based company partnered with Trighton Interactive to achieve optimal results. Today the Masipack leadership team is very proud of its new website and the recognition it has received from the IMA.
The Trighton Interactive team is also very proud of the website and the IMA award. Jody Resnick, founder and CEO of Trighton and Orlando SEO expert, says, We are excited to receive another Best in Class award from the IMA. This is Trightons 4th Best in Class designation, but our first in the manufacturing category. He adds, We believe our websites are world-class examples of how the internet can be used to enhance a businesss message and branding. This award is truly a testament to the standard of excellence by which Trighton Interactive operates."
Indeed, to achieve the IMA Best in Class designation, a website must be truly excellent. All websites submitted for judging are evaluated by a group of distinguished professionals on five criteria: design, content, feature functionality, usability and standards compliance. According to the IMA, to win an IMA your site must excel in each criterion, rise above your competitors sites and deserve to be a top choice for your target market. The website Trighton Interactive designed for Masipack North America excelled in all criteria, achieving an amazing score of 489 out of 500 points Best in Class an award that has been given to only 4 of the 70 entries in the manufacturing category for 2015.
Trighton Interactives award can be viewed in the IMA Award Gallery. To explore the award winning website, visit Masipack North America at http://masipackna.com .
Trighton Interactive is a full-service digital agency with clients ranging from Fortune 100 companies to startups. The experts at Trighton create award-winning responsive websites and provide https://www.trighton.com/search-engine-optimization Paid Search, and Social Media services.