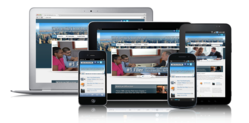 Orlando, FL (PRWEB) February 11, 2013
Last year, at a time when other agencies were touting mobile, Trighton featured Responsive Web Design, the technology Google now recommends for creating a search-friendly mobile presence.
Last year in an interview with Internet Retailer, Trighton Interactives CEO, Jody Resnick, asserted that Responsive Website Design was the future of Web solutions. He explained that one advantage of responsive design was that e-retailers can build a single site that adapts to all devices rather than building multiple websites for every possible device consumers might use to access the web. Other advantages of responsive design include unified, comprehensive content management and analytics strategies and an overall elegantly optimized web experience for users. With its ability to create a mobile presence that Google can easily crawl and index, responsive web design is a win-win for everybody.
This year the experts at Trighton have refined their skills in leveraging the power of responsive website design to help clients grow their business. In addition to advanced responsive designs, Trighton offers advanced Search Engine Integration, SEO / SEM, ConversionPush that connects the web to mobile via push notifications, and Custom Development featuring JavaScript / Node.js.
If youre going to the Interent Retailer Web Design & Usability Conference, be sure to visit the Trighton team at booth 217. Discover how Trightons Responsive Design technology, Search Marketing Integration, ConversionPush, and Custom Development can grow your business.
For more information or to your next project, contact Trighton at http://www.Trighton.com, 1.800.407.2068, or info(at)Trighton(dot)com.