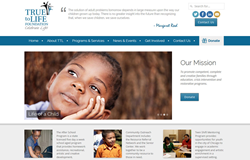 Chicago, IL (PRWEB)
July 15, 2015
True To Life Foundation is a nonprofit organization committed to the operation of youth and family programs that empower Chicago communities. Founded in 2002, True To Life was built on the principles of service and celebrating life; providing and advocating for the safety, education and development of our inner city children. True To Life Foundations mission is to promote competent, complete and creative families through education, crisis intervention, and restorative programs.
True To Life Foundation came to Idea seeking a new website to help reach a broader audience and showcase their services available to the community. Idea, a non-profit marketing group, designed and developed a custom WordPress website for True To Life Foundation to help them achieve their goals. The new website was custom built for mobile responsiveness and optimized for search. The website offers the opportunity to get to know the organization, its programs, staff and Board of Directors. The News & Events section features a social media feed section and a newsletter sign up. The website is built on WordPress making it easy for staff to manage internally.
The new website looks great. Idea was responsive in taking our design requests and transforming them onto the website. Not only does the site look good, but it allows us some added efficiency to help market our organization better, Velinda Alexander, Executive Director.
Visit the new True To Life Foundation non-profit website.
Idea Marketing Group is a web design and marketing firm located near Chicago, IL. Idea has extensive experience in enabling non-profit organizations to meet their digital marketing needs as well as create user-friendly, lead-generation websites. Since 2009, Idea strives to provide creative, unique and cutting-edge websites along with individualized goal-driven marketing. Clients choose Idea Marketing for award winning web design and marketing services from an experienced and passionate web team that helps grow businesses and excel nonprofit causes. To learn more about True To Life Foundation or Idea Marketing Group, visit http://www.ideamktg.com or call 312.834.7001.