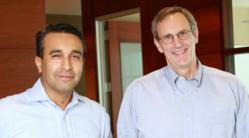 Austin, Texas (PRWEB) May 01, 2013
Following a highly successful, five-month, private beta period, TrustRadius today is opening its online community to the public to help organizations make more informed decisions when selecting enterprise software solutions to run their businesses.
Launched by proven, serial entrepreneurs renowned for introducing disruptive technologies, TrustRadius provides enterprise purchasers with authenticated, objective peer reviews of todays most popular software solutions for managing virtually every aspect of their operations.
Just as consumers can go to websites like Angies List, Yelp and Tripadvisor to get first-hand insights from people like them, business technology buyers can tap TrustRadius to get input from their professional counterparts before making a significant investment.
Every year, businesses spend nearly $ 3.8 trillion on enterprise technology and services. Until now, though, they have had to decide what to buy based heavily on biased vendor sales pitches and marketing materials as well as software reviews by technology analysts, typically underwritten by the narrow subset of vendors being reviewed.
TrustRadius already features more than 250 in-depth, software reviews by authenticated users on 100 different marketing, sales, finance, HR and IT software products. Reviewers include a broad spectrum of users front-line, mid-level managers to C-level executives at all types of organizations, from start-ups to global industry leaders such as Dell and American Red Cross.
The reviews not only provide buyers with intelligence to select the best solutions for them but also guidance on implementation and usage to maximize their return on investment.
I read several reviews on TrustRadius of applications that I know, and found them to be insightful, truthful and authentic, said Christoph Risch, Director of Sales Operations, Troux Technologies, a leader in helping large companies manage their enterprise IT portfolios. TrustRadius has the opportunity to completely turn the buying process for enterprise solutions on its ear, cut through the vendor and analyst noise, and give the buyers real opinions from real users early on in a vendor evaluation.
TrustRadius was founded in July 2012 by Vinay Bhagat and David Hart, Founder/Chief Strategy Officer and Chief Technology Officer, respectively, of Convio, widely recognized as the company that transformed the way nonprofits use the Internet to fundraise. After going public, Convio was acquired last May for $ 325 million. Bhagat, TrustRadius CEO, conceived the idea for TrustRadius after observing the challenges that Convio team members experienced when seeking authentic, comprehensive and unbiased information on technologies they were considering for purchase.
Our private beta period affirmed that technology buyers across industries truly value authentic information from peers and many technology users are willing to share their experiences, said Bhagat. Business and IT professionals not only want a resource like the consumer review websites, but because the stakes are higher than for consumer purchases, they value our emphasis on authentication, privacy, integration with LinkedIn, and most importantly, in-depth, structured content.
Trust Radius is superior to other sources of information because it provides: