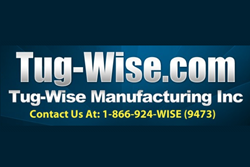 Slave Lake, AB (PRWEB) April 24, 2014
Tug-Wise Manufacturing Inc., a Canadian cable management manufacturer, has created a revolutionary product that can give every electrician an advantage for any job. They offer high quality products ranging from a heavyweight cable reel holder that handles up to 10,000 lbs, as well as stands designed for smaller cable jobs; it also works great for residential purposes. Their cable reel system, rollers, and stands are designed for an easier and safe way to handle spools when out on any job site.
Jim Emes, owner of Tug-Wise, was an electrician for more than 30 years before devising a cable reel holder that can be used to replace jack stands. After many years in the field, he was frustrated with the inadequacies of the jack stands he had been using. He knew there had to be a more efficient and safe way to manage cable, so he utilized his expertise to design a product that solved the issues of standard reel holders. Out in the field, wrestling with a typical jack stand can be awkward and difficult. Managing a standard jack stand requires at least 2 people, while this product is designed with a one man operation in mind. Tug-Wise has designed a simple and effective product that can save you time and effort.
This cable management gives electricians everywhere a superior method to decrease their labor efforts and cost when running cables. It is tough work and time consuming to organize the jacks, and often times multiple jacks stands are needed to run several lines at the same time. The Tug-Wise cable management system allows for a single person to run wire safely when on the job site, and can be used in any weather condition.
These products bring more value for all reel holder applications. It allows you to get the job done quicker and assures safety for the user. The product is easily mounted to the bottom of any wooden or plastic reel for trouble-free cable pulls. The unit can thread a 1/2 removable stem into the base and be stood upright to allow for a seamless 360