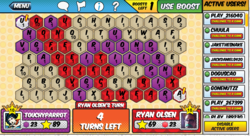 Chicago, IL (PRWEB) April 26, 2013
Turn-based word game Word Off!, received a massive update available now on iOS, Android, Facebook and the Web that brings a single player mode to the asynchronous game along with other features.
Players can square off against Alfred I. Wordsworth (call him AI for short) while they wait for their friends to send back turns. With three levels of difficulty, AI will be a challenge no matter which board a player picks. No turns from your friends? No friends to challenge? It's not a problem since AI Wordsworth is always there.
After players get an understanding of Word Off! under their belt, they can spend their victory coins in the newly created Word Off! store. Players are now able to customize their game to suit personal play styles.
The Word Off! 6.0 Update Features:

–>Computer opponent – Play a game of Word Off! without waiting a second.

–>Shop customization – Personalize Word Off! with new tiles, backgrounds and more.

–>Redesigned menus – Get into games faster with more ease.

–>Retired game boosts – Word score multipliers are out to better balance the game.

–>New boards – New ways to play with friends or the computer.

–>Play real-time – No need to exit to the main menu for game updates.
Word game Word Off! is a game where players challenge their friends to a word battle that has been described as Boggle meets Risk. With two ways to win, players will constantly figure out if scoring more points is better than trying to capture their opponents base.
Word Off! is created entirely in HTML5 by mobile and social game developer Toy Studio.
————————————
Find the Word Off! update at the following App Stores:

iOS: https://itunes.apple.com/us/app/word-off/id489202036?mt=8

Google Play: https://play.google.com/store/apps/details?id=com.toystudio.wordoff
————————————
For other supported platforms and more information, visit the Word off! website.
###
About Toy Studio

Toy Studio is founded on the idea of connecting people through games that encourage meaningful social interaction with friends. Toy Studio designs games on three core principles: quality, innovation and community. Just as impressive as the care put into design, is the tech behind the scenes. Toy Studio is pioneering HTML5 development all from a comfy studio in the heart of Chicago. Toy Studio also partners with fellow developers of high-quality, innovative apps to publish new and exciting titles on mobile marketplaces.