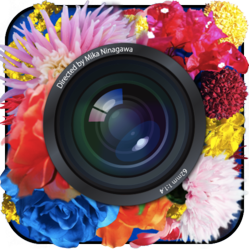 San Francisco (PRWEB) November 15, 2012
More than one million people across Asia downloaded the cameran iPhone and iPad app in just 10 days from its introduction. Today, Media Technology Labs, the experimental research arm of Japans Recruit Holdings Co., Ltd., is bringing the acclaimed cameran app to the U.S. The new app is inspired by the work of exceptional Japanese artist Mika Ninagawa, and is the first to bring the style of a professional photographer to personal photos. Cameran turns iPhone and iPad photos into vibrant, imaginative works of art, which can be shared easily across social networks.


Cameran has more than 20 adjustable filters that enhance smartphone and tablet photos with a colorful, fantastical style not found in any other camera app.
Vivid filters inspired by the art of Ninagawa Butterfly, Shower, Balloon, Imitation and more wrap photos in creative designs and vibrant colors that completely transform the look and personality of the photograph.
Additional adjustable filters Toy 1, Toy 2, Lomo, Beauty, Vintage and Warm give photos a new story to tell.
Cameran gives users an opportunity to express their style in photos taken from within the app, or existing photos pulled from the library, and all are easily shared across Twitter, Facebook or Instagram.
In addition to stylizing photos, cameran includes 21 wallpaper designs by Ninagawa, such as Pink Flower, Tropical Fish, Rose in Bloom, Smile, Dream, Gorgeous, and Sunny.
When photo creations are shared on social media sites, users unlock additional wallpaper styles to increase their wallpaper collection.
The combination of smartphone camera usage and creative filters allow people to express a new sense of style in their photographs, and cameran introduces a new elegance and exuberance never before seen, said Keiichiro Maeda, Senior Manager, Media Technology Labs. Going far beyond the filters you see in the most popular camera apps today, we developed cameran in collaboration with a beautifully creative artist to allow people to turn their favorite or just everyday memories into fun and fantastical works of art.
Cameran is available from the Apple App Store today, with an Android version for Google Play in development.
About Media Technology Labs

Media Technology Labs is an advanced research and development division of Recruit Holdings Co., Ltd. Through a unique culture of collaboration, the company combines deep insights into cultural trends and consumer research to create innovative digital platforms and products that enhance everyday life.
About Mika Ninagawa

Mika Ninagawa is a Japanese photographer well known for her vibrant and brightly colored photographs of celebrities and fashion models. She is also an accomplished film director, as director of "Sakuran" in 2007; the live-action film adaptation of the manga "Helter Skelter" in 2012, which grossed $ 26MM; and the popular AKB48 music videos for the songs "Heavy Rotation and "Sugar Rush," the AKB48 single used as the closing track on Disney's "Wreck-it Ralph." Ninagawa has received the prestigious Kimura Ihei Award, given to a single photographer each year, among many others accolades. Her 2008 individual photography exhibition was visited by more than 180,000 fans across Asia, while her photo collection titled MIKA NINAGAWA and published in 2010, drew worldwide acclaim. Her cultural influence extends to social media, with more than 250,000 followers on Twitter and Weibo (Chinese micro-blogging service).