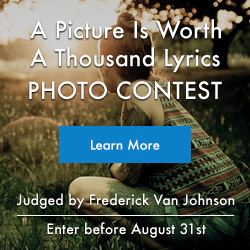 San Diego, CA (PRWEB) July 10, 2013
This Week in Photo aka "TWiP" is one of the Internets longest running and most successful podcasts. Each week, host Frederick Van Johnson sits down (virtually) with two or three other photographers to discuss the weeks happenings in the world of photography, and ViewBug, the number one online photo contest community that provides awesome opportunities for photographers, have partnered to run 'a picture is worth a thousand lyrics' photography contest.
"This photo contest is about the memories or scenes certain songs make you mentally conjure up," commented Frederick Van Johnson, founder of TWiP. "For example, when I hear Will Smiths old song 'Summertime', I think of backyard barbecues."
The contest will be judged by Frederick Van Johnson, who is a professional photographer and founder of This Week in Photo, a hugely successful and revered podcast targeted at photography enthusiasts. To date over 60 thousand weekly listeners listen to the show. He also regularly speaks at workshops on topics including marketing, business, and photographic technique. A leading communicator, Frederick has driven marketing for many top names in Silicon Valley, including Apple, Adobe, and Yahoo. As a senior-level marketer he is well versed in all aspects of traditional marketing as well as Internet and email marketing, viral social media driven campaigns, Search Engine Optimization, contest marketing, content marketing, product launch campaigns and Google Adwords/Adsense campaigns.
Most recently, Frederick founded Mediabytes, an Internet-based company created to provide "Byte-sized Education for Photographers and Creative Professionals." Frederick also serves as Vice Chairman of the Board for Brooks Institute, a prestigious photography school located in Santa Barbara California.
"We are excited to see the entries to the contest," commented Ori Guttin, co-founder of ViewBug. "This is one of the most creative themes we have ever ran!"
About ViewBug:
ViewBug is an online photo contest community with the World's best photo contests. Photographers can participate in photo contests with the coolest brands and awesomest judges, gain recognition and exposure. New opportunities to win are announced every week. ViewBug gives everyone an opportunity to be discovered. Unlike other photography competitions, ViewBug makes the photography contests fun and social by offering the voting process via a Photo Trifecta proprietary algorithm. A fast-growing company, ViewBug is based in San Diego with business development partners in San Francisco.