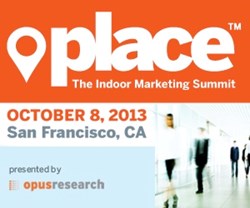 San Francisco, CA (PRWEB) September 19, 2013
Place 2013, the first event devoted to indoor location and marketing, has added new speakers from Twitter, Motorola Solutions, Boingo Wireless, Forest City and former Bloomingdales and Tommy Hilfiger executive Bob Rosenblatt to the already packed line-up.
Panels and keynotes at Place 2013 will also feature Google, Nokia/Here, Qualcomm, xAd, Placed, iInside, Retail Next, Euclid, Dicks Sporting Goods, GISi, the FTC, Future of Privacy Forum, LSA, LBMA, Wanderful Media, Primacy, BrickTrends and Retailigence. In addition, the conference will showcase major indoor location and retail case studies from Aisle411, PlaceIQ, Point Inside, Meridian, ByteLight, Path Intelligence and Forest City.
The conference is programmed by Opus Research Senior Analyst Greg Sterling and will take place on October 8 at the Palace Hotel in San Francisco.
Conference sessions include: