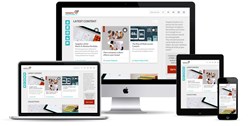 Toronto, Canada (PRWEB) September 11, 2013
Uberflip today announced the launch of Hubs, its latest solution designed to liberate content marketers from reliance on IT departments. Hubs empower marketers to take control of their content by creating a centralized, responsive and engaging front-end experience with no programming required.
Research by Gartner states that by 2017, CMOs will spend more on IT than CIOs as marketing becomes increasingly more technology-based. Content managers told us that one of their biggest challenges was showcasing their inbound marketing efforts on their site. They wanted to create a centralized home for their blog, social, video, photo, and PDF content, without having to involve IT time and resources, explains Yoav Schwartz, CEO and Founder of Uberflip. This content is updated daily and IT simply cant keep up.
Often times, IT is simply too slow to adapt to the fast-paced world of marketing, which causes brands to miss the boat on audience engagement and content-driven leads, states Schwartz. While marketers spend a lot of time and resources creating effective and targeted content, the infrastructure simply hasnt existed to consolidate this content into a user-friendly and branded experience. Hubs connects a brand's Blog, YouTube, Vimeo, Twitter, Instagram and PDF content with a few simple clicks, creating a mobile, tablet and desktop ready experience.
When you share content, it should be to an experience you own, explains Schwartz. Think about what we do today when we have a YouTube video to share: brands tweet about it and send users from one social network to another – that's just crazy. Instead users can tweet a link to that same video within their Hub, where all their other content from whitepapers to blogs is waiting to be consumed next. That's how you build relationships with your audience," asserts Schwartz.
Marketers can also build a list of prospects and leads through customizable Call-to-Actions that appear naturally within their content. Our focus is to ensure that Hubs is a cost-effective solution that works alongside the modern marketers toolkit by creating plug-and-play integrations with leading marketing software solutions.
According to Content Marketing Institute, $ 44 billion was spent on content marketing in 2012. As that budget continues to grow, the challenge for marketers will be to justify that spend. Uberflip offers deep insights into which type of content engages your audience, explains Schwartz. Theres no sense creating a video if you know an eBook drives more sales – were providing content ROI tools for the masses.
Uberflip is officially unveiling Hubs at CMIs Content Marketing World in Cleveland, Ohio on September 10-11. With over 1,200 attendees including marketing gurus such as Jay Baer, Ann Handley, and Lee Odden, Hubs will make its debut amongst the worlds top content marketers and brands. All of Content Marketing Worlds tweets, pictures, content, and videos will be available in real-time via their Hub: hub.contentmarketinginstitute.com.
To see a quick product demo of Hubs, watch this video.
About Uberflip
Uberflip empowers brands with the tools to take control of their content marketing efforts. With Hubs, marketers can connect their blog, social, videos, photos, and PDF content into one centralized, responsive and engaging front-end with no programming required. With Flipbooks marketers can transform static, boring PDFs into engaging, branded experience that can live on their own or inside a Hub. Using Uberflip Metrics, marketers gain deep insights into who their audience is and what content engages them.