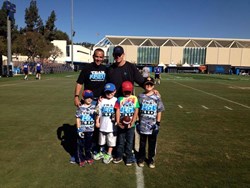 Irvine, CA (PRWEB) November 20, 2013
On their way to beating the University of Colorado on Saturday, November 1, the now #13th ranked UCLA Bruins football team hosted four courageous kids who are battling or have beaten cancer.
"Last year, Bruins' Head Coach Jim Mora and the team were so generous to have hosted NEGU kid Cade Spinello at a practice," said Erik Rees, Chairman of the Jessie Rees Foundation and Jessie's Daddy. "When he called again this year and asked us to bring four kids, we couldn't have been more excited."
The Jessie Rees Foundation names every courageous kid with cancer it reaches in more than 260 hospitals with the title 'NEGU kid'. NEGU is the nationally recognized acronym for Never Ever Give Up, Foundation founder Jessie Rees' life motto.
Erica Balkhi, the mother of Nicolas Balkhi who was one of the NEGU Kids hosted by UCLA summed it up, "The Jessie Rees Foundation (NEGU) and the UCLA Bruins together have given Nicolas the strength to battle the cancer he is currently facing. The Bruins shared with him such a special moment on the field. He felt like one of the "big guys". He has gained a confidence that is immeasurable!"
Helping kids to 'Never Ever Give Up' was a cause that was started by Jessie Rees, who battled inoperable brain cancer for 10 months herself at the age of 12 in 2011-12. Her work in serving over 3,000 kids earned her CNN's 'Young Wonder' award in 2012. The Foundation she started two years ago has now served over 70,000 courageous kids with cancer in 260 hospitals and on three continents.
"Jessie's focus was always on caring for kids who may feel lonely, limited, or labeled because of their cancer diagnosis and treatment," said Erik Rees. "She loved sports and I'm so happy for the four NEGU Kids hosted by UCLA Football, Kurt Perryman, Nicolas Balkhi, Cade Spinello, and Mikey Ashton and so thankful to all the Bruins and Coach Mora for caring for them."
About the Jessie Rees Foundation