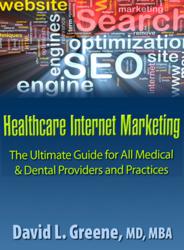 Phoenix, AZ (PRWEB) June 13, 2013
The Ultimate Guide to Healthcare Internet Marketing has been published by US Lead Network, which is a premier medical and dental SEO company. The book, which is over 400 pages and available for tablets and e-readers, is complementary to those who simply have a free 30 minute phone consultation with the company's CEO. For more information and scheduling, call (877) 791-6466.
Dr. David Greene, CEO of the US Lead Network, wrote the book from his years of success with web marketing. His previous pain clinic obtained 80% of its patients online through techniques mastered through years of on-the-job learning.
"Essentially, I've made most of the mistakes possible with Internet marketing in the past, and also achieved tremendous success having learned from them. Once my practice began to achieve 80% patient acquisition from the Internet, I knew this was worthy of relaying to other healthcare providers. My company was formed from these years of trial and error, and now we help healthcare practices and providers achieve tremendous return on investment from the web for patient acquisition."
The book presents basics on websites and Internet marketing in layman's terms. There are chapters on On-page search engine optimization along with Off-Page marketing such as with press releases, videos, articles and more. In addition, there are chapters on social media, Pay Per Click and short and long-term planning for an Internet campaign.
"Every healthcare provider should have at least a basic understanding of how healthcare internet marketing works. Granted, most will not have the time to properly handle the campaign, which is what US Lead Network does for practices around the country."
The book is available complimentary to those having a free 30 minute phone consult with Dr. David Greene. Those interested should call 877-791-6466.