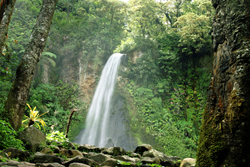 College Park, MD (PRWEB) July 01, 2014
A new study published in Nature Climate Change demonstrates an alarming increase of rainforest loss in Indonesia during the past 12 yearsthis loss is greater and faster than the rate shown in Brazil in 2012 which gained global attention as a harbinger of environmental stability.
This new study indicates that forest loss rates are accelerating despite a 2011 moratorium on deforestation issued by the Indonesian government that was designed to combat climate change as well as to protect wildlifefor example, the conservation of orangutan and tiger habitat. The study also reveals a new scientific fact that demonstrates importance of preserving degraded forest, as more than 90 percent of the natural forest loss occurred within the degraded type, which contains significant carbon content.
The study, Primary forest cover loss in Indonesia over 20002012, was written by UMD geographical sciences professors, Matthew C. Hansen and Peter V. Potapov, UMD geographical sciences graduate research assistant, Belinda Arunarwati Margono, and research associate, Svetlana Turubanova, as well as Fred Stolle of the World Resource Institute. The researchers used earth observation data to quantify spatial and temporal trends of forest change in Indonesia.
Indonesia's virgin forest loss totaled 23,000 square miles over the 12-year period. Unlike Brazil, which has managed to reduce forest losses in recent years, the pace of Indonesias losses has increased from year to year. The new study reports that the forests were cleared in part to make room for palm oil plantations and other agricultural endeavors. The study reveals an increasing proportion of natural forest loss over wetlands from 2000 to 2012 with bigger patches compare to of lowlands.
"We need to improve forest governance, the control of the forest itself, particularly on the area where forested wetland present," said Margono, who in addition to her service at UMD is an official at the Ministry of Forestry of Indonesia in Jakarta. Improved forest management across the tropics is needed, and starts with accurate and timely baseline data of forest resources and their change over time; and made it publicly available to improve the good forest governance.
Indonesias deforestation crisis has attracted worldwide attention, especially from Norway, which has pledged $ 1 billion if Indonesia passes and enforces legislature that slows the rate of forest loss as part of a larger plan to slow global rates of climate change.
Also among the studys key findings: