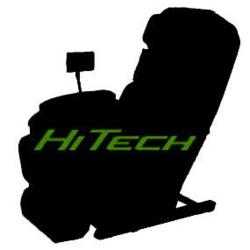 San Diego, CA (PRWEB) October 20, 2012
HiTechMassageChairs.com, an online shopping destination for top quality massage chairs, product comparisons, and informational articles, has announced that it will release a new product line and revamped site design at the end of the month. HiTech Massage Chairs has recently come under new ownership, with these changes in the website elements and its featured massage chairs contributing to an overall company makeover that will showcase the technology behind the most sleek and modern massage chairs on the market today.
As part of its product line expansion, http://www.HiTechMassageChairs.com is importing chairs manufactured by brand leaders such as Osaki, including some new brand models; and they will continue to sell Panasonic chairs and Elite massage chairs, as a carry-over from the previous owners. The business will still provide phone support seven days a week, along with comprehensive buyers guides, and detailed comparison charts to clarify the options and features of each model. Their catalog will include classic chairs and old favorites, as well as new, cutting-edge models. While maintaining these existing services, HiTech plans to expand its resources for all customers beginning this month.
The site itself will feature a new design that will include a very sleek, masculine theme with stark carbon-black and red highlights. The HiTech webpage will also be expanded to incorporate rich multimedia content such as high definition videos and images with comprehensive viewing options, to give the user a better understanding of the products.
Reflecting on the science behind these chairs, the site will also incorporate numerous articles related to robotics, engineering, gadgetry, and massage technology. The new ownership aims to make the site not just a store front, but also an informational platform to give potential customers unprecedented insight into the tech behind the product.
Shopping for a massage chair should be a fun, but also educational experience, says HiTech owner Todd Harmon. After all, you are investing in finely-engineered robotic technology to improve your health, your productivity. Massage chairs are relaxing, but theyre also really cool. We dont want to overlook that. We want to share our love for the tech behind robotic massage with our users.
The company–who has been redesigning the site, selecting new lines to import, and organizing articles on the latest massage chair news and technology–anticipates site completion and new product launch the last week of October.
About HiTechMassageChairs.com:
HiTechMassageChairs.com carries top quality massage chairs from leading brands, offering the sleekest and most advanced designs in a secure and informative online shopping platform. Available on the site are award-winning chairs such as the Elite Optima, and product lines from Panasonic Massage Chairs, Osaki Massage Chairs, and others. The site features comprehensive comparison charts, thorough information and complete specifications on each model, and customer support every day of the week from massage chair experts who can provide straightforward answers on how each chair measures up. HiTechMassageChairs.com aims to make your investment in a massage chair into a pleasant, informational experience. The new site is not yet live, but you can view the existing catalog of products either at this link or here.
For more information, contact (800) 984-404, or visit http://www.HiTechMassageChairs.com.