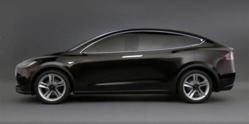 Campbell, CA (PRWEB) September 01, 2012
Teslas Musk Says Supercar on the Way
Tesla Motors CEO and co-founder Elon Musk announced that he is considering the formation of a financial holding company to oversee stock of his companies, SpaceX and Tesla Motors. While Musk has made no final decision about the holding company, he will be scrutinizing the IPO of SpaceX, which is set to take place in 2013. SpaceX launched its first cargo rocket last May (see video). Musk also said that his electric automobile company would almost certainly begin production of a supercar within the next five years. Tesla Motors, maker of the Roadster, Model S, and Model X electric sport and luxury cars, expects to turn a profit in 2013 for the first time, primarily off sales of the Model S.
Click here for full story.
Chevy Volt August Sales Will Set Record
Though final sales numbers for the month are not yet tallied, General Motors has announced that August looks to be the biggest month yet for its hybrid-electric Chevy Volt automobile, with 2,500 units sold. The Volts availability in a wider market area is a key factor behind the favorable numbers, now that the storied car is in dealerships in Michigan, Illinois, California, and Florida. GM sold 2,000 Volt cars last March. The current tally stands at approximately 13,000 hybrid Chevy Volts sold since introduction of the vehicle two years ago.
Click here for full story.
MPAs flagship website has grown into a major presence on the Internet. The site features a complete shopping mall as well as a free-to-list classifieds section for all things green.
For advertisers, MPA offers the chance to be in front of over 20,000 readers each month who are interested in hybrids and electric vehicles, as well as sustainable transportation in general.
Bob Twaalfhoven: President and Founder of MPA, is an MIT-educated engineer whose primary interest is planetary sustainability.
Larry Judkin, General Manger and Sales Coordinator, has tasked himself with taking MPA to the number-one spot among green transportation websites.
MPAs offices are located at 307 Orchard City Dr., Suite 210, Campbell, Calif. 95008.

For advertising opportunities, contact MPA directly: Phone: 408-963-6427

Fax: 408-963-6730

Email: driven(at)myperfectautomobile(dot)com

Web: http://www.myperfectautomobile.com