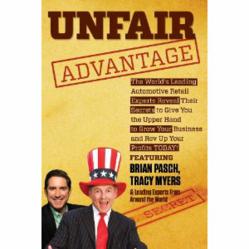 Norfolk, VA (PRWEB) October 03, 2012
Automotive Experts, Glen Garvin and George Nenni, Hit Amazon Best-Seller List
Glen Garvin, Group General Manager and George Nenni, VP of Operations for Dominion Dealer Solutions, recently hit NINE separate Amazon.com best-seller lists with new book Unfair Advantage.
Glen Garvin, Group General Manager and George Nenni, Vice President of Operations for Dominion Dealer Solutions, have joined forces with Nick Nanton, Esq., The Celebrity Lawyer and Agent to Celebrity Experts, Brian Pasch, CEO of PCG Digital Marketing and Tracy Myers, C.M.D., car dealership owner, noted small business marketing and branding solutions specialist, best-selling author and speaker to contribute his expertise to the book titled Unfair Advantage: The Worlds Leading Automotive Retail Experts Reveal Their Secrets to Give You the Upper Hand to Grow Your Business and Rev Up Your Profits TODAY!. The book was released by CelebrityPress – a leading business book publisher. The authors in this book have agreed to donate all royalties to http://www.MarketersForGood.org.
Unfair Advantage features top advice from some of the most successful automotive retail experts from around the world. The authors will be sharing business strategies and real-life solutions that can help car dealership owners, general managers, sales managers and e-commerce directors in the new and rapidly changing economy. Glen Garvin wrote a chapter entitled, Technology Is Here To Stay- Jump On The Bandwagon Or Fall Behind, while George Nenni contributed a chapter titled Supercharged Vehicle Merchandising.
As the grandson of a car dealer in upstate NY, the automotive business has been a part of Glens DNA for nearly his entire life. After graduating from Syracuse University with a degree in business administration, he co-owned and operated the largest franchise operation for the automotive service provider, Rolling Maronie in New York, New Jersey and Pennsylvania. Selling that business to Dominion Dealer Solutions, Glen worked at establishing Dealer Specialties as the most advanced on-site merchandising and photography company in the industry. Today, Glen operates the sales, operations, franchising and ancillary data businesses for Dominion Dealer Solutions Inventory companies. He has educated automotive dealers at NADA, Digital Dealer, Driving Sales and AutoCon, amongst other automotive conferences. Glen has won several industry awards, including the prestigious Driving Sales Innovation Award. Glen is an active participant in social media and can be found at @ggarvin on Twitter as well as on most automotive forums.
George Nenni is the Vice President of Operations for Dominion Dealer Solutions. George began his automotive career with Dealer Specialties in 1993. He was the Director of Operations for Dealer Specialties when Dominion acquired the business in late 1999 and became the Vice President and General Manager in 2001, rst at Dealer Specialties and then at Dominion Dealer Solutions. Today, George oversees Dealer Specialties sales and operations, as well as overall operations for Dominion Dealer Solutions.
George graduated from the Farmer School of Business at Miami University (Oxford, Ohio) with a BS degree in marketing. He and his family live in Middletown, Ohio and can regularly be found commenting on the automotive industry from @georgenenni on Twitter.
From CelebrityPress :