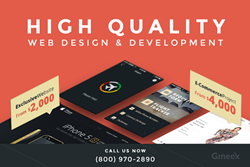 Chicago, IL (PRWEB) March 31, 2014
GineeX Studio, the full-service web development company with offices in San Francisco, Chicago and Los Angeles, celebrates its first full year of operation next month. In its first year, the company marked several milestones and developed mobile applications, websites and e-commerce sites for a wide range of companies, including luxury travel services and fashion designers.
"Although we have 18 years of experience in the web design field, GineeX's first year has been a year like no other for us," says Dmitry Cheney, owner of GineeX Studio. "Since we build our clients' websites and mobile apps from scratch and don't use any frames, we deliver unique and limitless sites that are custom-fit for our clients' businesses. That has translated to a phenomenally busy and exciting year."
As part of its full-range of services, the digital company offers web and app development, creative design, search engine optimization and complete marketing strategy and evaluation. With a full team of experienced designers, developers and marketers, the company's projects include an original e-commerce site and online store for designer Christina Karin, a useful mobile app for travelers for FlyFirst, an interactive website for AwardPlanners' premier mileage reward service and many websites and marketing projects for businesses across the country.
"We are proud of GineeX's portfolio and service range," Cheney says, "because few other agencies offer the depth of experience and broad-reaching approach of our multi-office team. Our experience with all aspects of digital development and refusal to use limiting frames means that our clients can establish fresh and innovative web and app presence instead of the usual cookie-cutter sites we see so frequently."
Inspired by inventive and ground-breaking digital pioneers, the avant-garde GineeX digital studio also created an exclusive, limited edition iPhone 5S LE in 2014 to mark its place in history. Only 500 of the gold-plated mobile devices will be produced and numbered for its place in the series. The unique iPhone 5S LE honors the contributions of legendary Apple co-founder Steve Jobs with a special inscription and commemorative logo surrounded by 18-karat gold trim.
With designers and developers who have worked in the industry for decades, GineeX has worked diligently this year to make its products and services highly accessible to small and start-up businesses, growing enterprises and large corporations. Its offices in the Midwest's Chicago, the Southern California town of Studio City and the Bay Area's Walnut Creek gives entrepreneurs in some of the country's biggest metropolitan regions quick access to GineeX's digital experts. The company makes its service menu equally accessible with affordable and realistic pricing structures. Exclusive website development begins at just $ 2,000 and e-commerce sites begin at an economical $ 4,000.
"This industry is incredibly fast-paced and constantly changing," Cheney notes. "We are pleased that our diverse and experienced team has come together to provide such a well-rounded and creative mixture of services for our clients. We are excited about the future and the ability to help other businesses achieve all of their goals, whether those objectives are to establish new web presence, create handy new mobile apps that promote their businesses, significantly improve click-thrus and page views or escalate sales with an engaging online store."
For more information about GineeX Studio's extensive services, call (800) 970-2890 or visit the company's website at http://www.GineeX.com.
About GineeX Studios

GineeX Studio is a full-scale digital company offering complete website development services for desktop and mobile formats, mobile application development, graphic and visual design and integrated SEO and marketing functions. Established in 2013, the company maintains offices in Chicago, San Francisco and Los Angeles and has an extensive portfolio of customers from around the country.