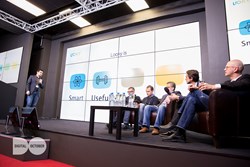 Moscow, Russia (PRWEB) December 13, 2013
Improving Our Lives: TechCrunch Moscow 2013
Between the 8th and the 9th of December 2013, the 4th annual TechCrunch Moscow conference was showcasing brand new and the hottest Russian tech start-ups under the theme of Innovation Detox. The TechCrunch Moscow is organized by Digital October and Kite Ventures, in partnership with TechCrunch.
39 Russian tech start-up stars competed against each other pitching on stage to attract media and investors attention, and secure the title of the winner of Startup Battle. There were additional 19 start-ups, which also represented their businesses at the Startup Alley 2.0.
Amongst 58 start-ups, there were certainly some interesting ideas and tech trends worth paying attention to as we are approaching the end of 2013. One thing in common shared by all start-ups was that they all did strive to to tackle everyday problems to find elegant solutions that will, ultimately, improve their customers' life easier. Quoting Innovation Detox TechCrunch Moscow conference mission: the prime purpose of innovation is addressing the fundamental human needs more efficiently to increase the quality of life. So, what can Russian startups offer to improve life any further, in this age of rapid technology breakthroughs?
For people living in the Northern hemisphere, MediaGloves provide a solution against frostbitten fingers. The startup came up with a special stainless liquid, which can be applied at the tips of any gloves, to add the functionality of navigating the smartphone without taking the gloves off.
Another startup, Obereg, designed a smart bracelet that measures heart rate and body temperature, detects sudden falls, and sends this information straight to any number of smartphones. This makes taking care of elderly family members much easier.
There were educational start-ups, too. KidErudite, for example, offers to embrace mobile education with specially designed and psychologists approved mobile apps. With these apps, starting from the age of 3, children can develop into true digital natives.
WayRay presented the statistics that 15% of car crashes happen due to drivers getting distracted while looking away from the road glancing at their smartphones or GPS devices. With WayRays augmented reality technology a road map is projected straight onto the cars window, and driving becomes a more natural process.
Another life improving idea. Everyone is familiar with an unpleasant feeling or loosing the keys or the wallet, and trying hopelessly to locate them. With Tag and Find technology this problem can remain in the past. A small neat sticker can be applied to a valuable item, and it will be easily detected when it comes within 5 meters radius from the paired smartphone.
Amongst 39 pitching Russian tech start-ups there were also multitudes of great innovative business ideas. Ranging from the mobile blog app, which allows you to blog effortlessly on the go without being restricted by 140 characters (Telller) to computer game swapping platform with a geo-location feature (Obmenigrami). Some of the prominent trends were highlighted by new online financial services, which aimed at simplifying financial operations as well as online platform providers, which helped to connect businesses and customers in a more efficient way providing one-stop solution for both parties.
Another key trend was a strong focus on mobile products and services. During 2012 the mobile access to the internet increased by 33% in Russia. That may explain the reason why more than 50% of TechCrunch Moscow start-ups provided mobile apps for their services.
Interestingly enough, even the conference co-organizer, Digital October, grasped the opportunity to launch their own two startup projects at TechCrunch Moscow 2013. First one is a TED-like digital library of educational materials, DOTV. The second start-up is a New Professions Lab. This lab provides access to online courses specializing in professional development within the fields of future proof careers. Hence you can educate yourself in your own free time about such professions as an Online Course Producer, a Growth Hacker or a Big Data Specialist.
The Champions of TechCrunch Moscow 2013
After several intense hours of 3-minute startup pitches, the judges panel selected 5 start-ups, and the popular voting determined one more startup that moved on to compete the next day, in the finale of TechCrunch Moscow.
Amongst the finalists there was Obmenigrami, an online platform, which allows gamers to swap or sell their used games or accessories for consoles. The geo-location feature allows one to see, where the nearby gamers are and what they got on offer. This makes it easier to arrange a meet up and swap or sell games.
Another finalist was Looky a start-up offering a portable TV guide, which can be accessed from any internet supporting device. The app covers 200 channels in 100 different regions. Apart from providing information on the favorite programs and actors, it also allows one to set reminders in order not to miss your favorite show. Looky also embraces Web 2.0 features as it allows its customers to share and discuss programs with their friends.
Gbooking, another finalist, offers a smart way for local businesses can sell their services. Gbooking is a tool that simplifies a booking process as the times and availability of specialists is displayed in the real time. It allows a local business to set smarter pricing strategy and offer discounts during non-busy hours. Gbooking widget certainly has a potential of becoming irreplaceable, once introduced into local businesses websites, discount aggregators and search engine listings.
Aviashopper is a one stop solution for frequent plane travelers. Its a mobile guide covering all major international airports of the world. The Aviashopper mobile app shows how to get to the airport, where to grab a bite in an airport, or where the next check-in desk is.
However, the top two places were taken by the finalists – Medesk and DreamRoomer.
Medesk is a promising cloud healthcare platform. It builds an ecosystem for private healthcare market, which brings all the major stakeholder to one place, e.g. the clinics, patience, CRO, insurance companies and medical device vendors. To the date, Medesk platform already has more than 10,000 patients registering their health records across Russia.
The winner of TechCrunch Moscow 2013 was the DreamRoomer. This is an online service, which helps landlords to find tenants of their dreams. Landlords and tenants register their profiles. Landlords upload the pictures and descriptions of their apartments. While the tenants create their own profiles, with pictures and descriptions of themselves and the type of renting arrangements they are looking for. Once the landlord finds a perfect tenant, they can get in touch and exchange their contact details.
One may get an idea that TechCrunch Moscow 2013 was truly overloaded with bright business ideas and that for the investors it must have been pretty tough to select only one single winner. But at TechCrunch Moscow one doesnt have to be a winner in order to be approached by an investor, everybody gets an equal chance.
What did the battle of the Russian tech start-ups reveal at TechCrunch Moscow 2013?
The moderators of TechCrunch Moscow Mike Butcher, editor at large of TechCrunch.com and Edward Shenderovich, managing partner of Kite Ventures at the end of the Demo Day noted that with every year the performance of Russian tech start-ups continues to improve significantly.
Russian tech startup representatives become more experienced at pitching and have a deeper understanding of the role of their product, not just the technology behind it. Hence the event organizers state that the Russian tech ecosystem ke