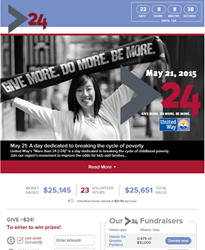 Portland, OR (PRWEB) April 30, 2015
Creating a future free from poverty starts with successful kids. To help kids in their community break the cycle of poverty once and for all, United Way of the Columbia Willamette is asking people to take action through its >24 Campaign, now its second year. In order to rally more people than ever before, United Way is harnessing the power of social media in the weeks leading up to its >24 day of action.
This May, United Way of the Columbia-Willamette is asking Portlands community members to make a difference by donating their time or money during a 24 hour event to end the cycle of poverty. But the campaign is far greater than a single day of giving: its about mobilizing communities to make the commitment to eliminate childhood poverty. To rally more people than ever around this life-changing initiative, United Way is taking an innovative approach to empower people to pledge, give, and share the campaign.
Through May 21st, everyone can use social media and even their smartphones to get involved. People can simply visit United Ways >24 page to give their time or a donation for local children and their families.
All donations are tax deductible, and 100% of giving goes towards helping the families served by United Way through its Breaking The Cycle Fund as part of its new strategic plan.
To make it easy for individuals to pledge, give, and share, United Way of the Columbia-Willamette is using a Pledge & Donate App from cause marketing leader CafeGive Social.
After pledging time and volunteer hours, people can click any of the social media sharing icons to simply share the campaign with their friends and family. Every time someone shares the >24 campaign, they are helping to raise awareness about childhood poverty, and encouraging others to get involved.
Whether someone lives in the Pacific Northwest or Floridas Suncoast, they can give and get involved in the campaign. The app extends the reach of United Ways essential message by connecting supporters beyond the organizations current fanbase, and uses social media to inspire action from coast to coast.
As the name proves, United Ways >24 is about more than just one day of giving, one community, or one pledge. Its about people coming together to end the cycle of poverty once and for all. As many as 40% of children in UW-CWs region are living in poverty, and giving just a little time or money can have lasting effects for a child and their family. From mentoring hours and school supplies to providing healthy food and stable housing, support for >24 will help make sure that every child has what they need to help create a future free from poverty.
About United Way of the Columbia-Willamette: Founded in 1920, United Way of the Columbia-Willamette is a non-profit organization focused on breaking the cycle of childhood poverty in the four-county (Clackamas, Multnomah, and Washington in Oregon and Clark County is SW Washington) region. Through strategic partnerships with area nonprofits, businesses, schools and government organizations, United Way is harnessing the caring power of individuals across the metro area to improve the lives of children and their families living in poverty. For more information about the organization and how to get involved, please visit United Way of the Columbia-Willamettes website http://www.unitedway-pdx.org.
About CafeGive Social: CafeGive Social is the only company that combines social media marketing with meaningful, action-oriented cause marketing applications and solutions. Our products and services have helped companies, agencies and nonprofits of all sizes connect with customers to build brand, enhance reputation, raise awareness and affect social change. Headquartered in Portland, Oregon, CafeGive Social is a privately held company. For more information, visit http://www.cafegive.com.