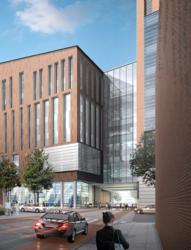 Buffalo and New York, NY (PRWEB) April 10, 2013
The University at Buffalo (UB) has unveiled HOK's dramatic design for its new School of Medicine and Biomedical Sciences building on the Buffalo Niagara Medical Campus.
The seven-story medical school will bring 2,000 UB faculty, staff and students daily to downtown Buffalo and, at more than 500,000-square-feet, will be one of the largest buildings constructed in Buffalo in decades. HOKs design features two L-shaped structures linked to create a six-story, light-filled glass atrium that includes connecting bridges and a stairway. Serving as the buildings main interior avenue, the atrium will be naturally illuminated by skylights and two glass walls, one along Washington Street and one at the terminus of Allen Street.
The building, which HOK is designing for LEED Gold certification, will have a facade clad with a high-performance terra-cotta rain-screen and a glass curtain wall system that brings daylight deep inside.
Incorporating the NFTA Allen Street transit hub into the medical schools ground floor provides convenient mass transit access, furthering the development of a sustainable, vibrant community.
The new medical school will help the university achieve objectives critical to the UB 2020 strategic plan: creation of a world-class medical school, recruitment of outstanding faculty-physicians to the university and transformation of the region into a major destination for innovative medical care and research.
The new design allows us to grow our class size from 140 to 180, educating more physicians, many of whom will practice in the region, said Michael E. Cain, MD, vice president for health sciences at UB and dean of the medical school. It allows UB to hire more talented faculty, bringing to this community much-needed clinical services and medical training programs.
HOKs design for UBs medical school creates the heart for the new Buffalo Niagara Medical Campus while integrating and connecting to the surrounding communities," said Kenneth Drucker, FAIA, design principal for the project and design director for HOKs New York office. "The buildings atrium will be the focal point for bringing together clinical, basic sciences and educational uses fostering collaboration.
The buildings first two floors will house multipurpose educational and community spaces for medical school and community outreach programs.
A second-floor bridge will link to the new John R. Oishei Childrens Hospital and the Conventus medical office building under construction along High Street adjacent to UBs new medical school.
The third, fourth and fifth floors of the medical school will feature core research facilities and approximately 150,000 square feet of state-of-the art research laboratories.