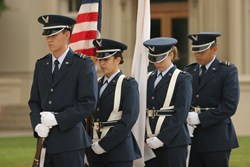 Redlands, CA (PRWEB) November 14, 2013
The University of Redlands is the top western regional University for veterans according to U.S. News rankings released this week. U.S. News produced the inaugural Best Colleges for Veterans rankings to provide military veterans with data on which top-ranked schools offer benefits to veterans and active service members that can help them pursue a college education.
The news comes during National Veterans Awareness Week, as the University of Redlands community engages in a week-long series of events designed to celebrate its long heritage of support for veterans, and provide recognition for the contributions of the Universitys veterans, military and their families.
The University of Redlands has in place a support system for members of the military and veterans who enroll at any of the Universitys locations. This support system includes a VA Specialist Certifying Official, a Director of Military Outreach, a dedicated Admissions Counselor, a membership in a Student Veteran Organization and recognition at Commencement.
Approximately 16% of the University of Redlands graduating class of 2013 were veterans. This included graduates from the College of Arts and Sciences, the School of Business and School of Education.
The universities included in this ranking are the top-ranked schools in the Best Colleges rankings that participate in federal initiatives helping veterans and active service members apply, pay for and complete their degrees. There are 234 ranked schools across 10 separate ranking categories: National Universities, National Liberal Arts Colleges, Regional Universities (North, South, Midwest and West) and Regional Colleges (North, South, Midwest and West.)
The U.S. News rankings only include numerically ranked schools in the 2014 edition of the U.S. News Best Colleges that meet each of the following criteria:

An institution member of the Servicemembers Opportunity Colleges (SOC) Consortium
An institution certified for the GI Bill
An institution participating in the Yellow Ribbon Program
About the University of Redlands:
The University of Redlands is an independent, nonprofit liberal arts and sciences university consistently ranked among the best masters universities in the nation. Since the university's founding in 1907, Redlands has emphasized academic rigor, personal development and interdisciplinary studies. Redlands integrates spatial learning across academic disciplines. At the innovative Johnston Center, students have the opportunity to design their own custom major. Home to one of the oldest accredited music programs in California, the conservatory-style School of Music educates the whole musician. Adults may continue their education with programs tailored for working professionals at the Schools of Business and Education, offering evening degree-completion and graduate programs at several convenient Southern California locations.