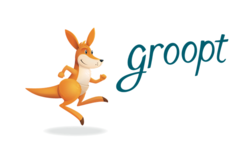 San Francisco, CA (PRWEB) October 02, 2012
News Facts

Groopt, the leading provider of cloud-based collaboration and mobile productivity applications, launches Groopt Community at University of California, Irvine (UCI), providing 600 student organizations with online group networks to support campus-wide communication and collaboration.
Community offers universities, non-profits and other member-based organizations a secure online network where members can post messages, share files, vote and manage a shared calendar.
Having streamlined the onboarding process, organization can quickly and effortlessly connect their membership by sending Groopt a CSV (comma separated value) spreadsheet of their member information. Then, Groopt deploys their secure online network and invites their membership for free.
Groopt will create online groups for more than 600 campus organizations as well as a leadership network for all student group executives to share best practices and promote events.
On Monday, Oct. 22, Groopt Community will go live, enabling more than 10,000 students to connect through UCIs private online community.

Groopts mobile app (iOS, Android) allows groups to communicate and collaborate with their members from anywhere, with any device for free.
Quotes

Offering the power of Groopt Community to all groups worldwide for free was a response to frustration with current ad-sponsored, expensive social media that mines and sells users data. Now groups have their own private and secure place to get things done. Patrick Allen, CEO and co-founder of Groopt
"Groopts customer service is second to none and response time is outstanding. Groopt Community has been very well received by undergraduates and alumni and has helped to strengthen our organization." Gordy Heminger, President and CEO of Alpha Sigma Phi, current Groopt Community user
"UCI is excited to provide more than 600 campus organizations with private groups to strengthen our community and foster effective communication among our students." Sherwynn Umali, Director of Student Organizations at University of California, Irvine
For more information about Groopt Community or the partnership with UCI, visit Groopt.com or call 855.464.7667.
About Groopt

Groopt, Inc., is re-imagining the way organizations connect with their members providing comprehensive technology that fosters effective communication while improving member loyalty and engagement. Founded in 2010, the San Francisco-based company is earning widespread adoption as a group management platform for K-12 classrooms, universities, non-profit and for-profit organizations worldwide.