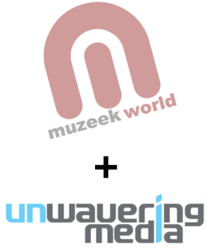 (PRWEB) October 10, 2012
A boutique internet marketing firm based out of sunny southern California, Unwavering Media Inc. has sought out companies in need of internet marketing, reputation management and/or search engine marketing services throughout the United States. While search engine optimization is their main forte, they have also taken on major consulting contracts for fortune 500 companies, web design projects, ecommerce solutions and custom backend programming jobs. Recently, theyve started to tap into a variety of markets, stretching their skills out to a larger array of potential industries that are in need of the optimization and marketing services they offer.
As of last week, Unwavering Media has signed on Muzeek World as one of their new clients. Muzeek World came to Unwavering Media Inc. in search of website optimization, link building services as well as consulting time to make their website and rankings in the search engines better. The goal of this campaign is to increase rankings in the search engines while optimizing the current website http://www.muzeekworld.com for industry related keywords that will ultimately help their customers find them easier. Being found will lead to more customers on the website and ultimately more sales.
CEO of Unwavering Media Inc., Adam Maywald is up for the challenge. Adam says, Im excited to get started on this campaign. Our search engine optimization efforts will help their [Muzeek Worlds] website reach more customers nationwide while also helping them make their website the best that it can be. Clients who utilize a combination of our SEO efforts, link building and consulting services have seen the most success with their websites. Adam has been in the internet marketing space for over 15 years and has worked with companies of every size. Because Unwavering Media is a small company they only work with companies who are serious about their marketing and Muzeek World definitely fits that bill.
Muzeek World is an online retailed of audio & visual equipment. More specifically they specialize in sound equipment and gear as well as lighting, video, dj gear and home audio equipment. When it comes to audio equipment, Muzeek World is the number one choice for schools, churches, resellers and musicians nationwide. They offer twenty four hour a day, seven days a week customer service. In additional to their excellent customer service, they also guarantee the lowest prices in the industry. From the top rated equipment names to some of the lesser expensive gems, Muzeek World can help customers find a custom audio, video or lighting concept that will work best for them.
Expanding their reach nationwide, Muzeek World is broadening their horizons and offering their competitive low prices to customers all over the United States. From the west coast to the east coast, top name brands such as Bose, Yamaha, JBL, Kramer, Turbosound, Soundcraft, QSC, Pioneer, Denon are being offered through their online store. As if their low prices were not already enough of a great deal, as an added bonus, they offer free shipping on over 50,000 products in the store. This is an important selling point, as it will help with conversions as Unwavering Media Inc. starts to push more and more traffic to their website.
Unwavering Media Inc. and Muzeek World are entering into their first month of search engine optimization, link building and consulting services. For Unwavering Media Inc., this means they have a lot of heavy lifting to do before the results start to pour in. Muzeek World is anxious to get started and start reaping the benefits of all the hard work being done on the backend. After a few months, both parties expect to see improved ranking results resulting in more traffic to the website followed by an increase in revenue for Muzeek World. The success of this campaign will be determined in the coming months.