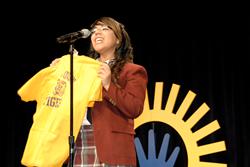 Dallas, TX (PRWEB) May 01, 2014
For the fifth consecutive year, 100% of graduating seniors at Uplift Education, the largest network of free public charter schools in North Texas, have been accepted to college.
This year, 388 seniors from Uplift's five high schools were accepted to colleges and universities from around the state and nation. The scholars from Uplift North Hills in Irving; Uplift Peak in east Dallas; Uplift Summit in Arlington; Uplift Hampton in south Dallas; Uplift Williams in northwest Dallas also earned $ 48.7 million in scholarships and grants to date.
Uplift CEO Yasmin Bhatia makes having strong academic and college counseling support a top network priority.
Our Road to College staff dedicates thousands of hours every year helping our students define their interests, make really hard choices about where to go to college and how to pay for it. It doesnt stop there, though. Our staff then supports the scholars through college to make sure they are successfully managing the challenges they often face there, Ms. Bhatia said.
Uplifts Road to College program places academic and college counselors on each campus to provide academic, financial and emotional support for scholars in grades 6-12 along with INSPIRE counselors who support alumni in college.
Five seniors were named Dell Scholars, and two were named Gates Millennium Scholars. They will receive significant financial aid awards as well as resources and mentoring beyond initial financial assistance to ensure recipients have the support they need to obtain a college degree.
For AB Bustamante, a senior at Uplift Peak, attending a school where everyone is focused on college admissions and readiness, as well as his own dedication and commitment to hard work, has made a significant difference in his future . AB will be the first in his family to graduate from high school and attend college
Even with his commitments as class president, basketball, soccer and cross-country athlete, and community service volunteer, AB also works to help support his mother and younger siblings. In the fall AB will attend the United States Naval Academy, where he plans to study political science, on a $ 500,000 scholarship.