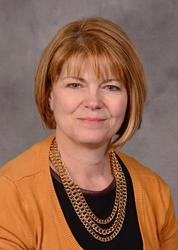 Lenexa, KS (PRWEB) October 28, 2014
After conducting a nationwide executive search led by healthcare leadership solutions firm B. E. Smith, Upstate University Hospital in Syracuse, N.Y., has hired Nancy Page, MS, RN, as chief nursing officer. An experienced healthcare executive with more than 28 years of progressive leadership experience in an academic medical center setting, Page will assume her new duties immediately.
Nancy brings immense clinical knowledge, a proven track record of building collaborative relationships with physicians and staff, as well as a strong focus on providing the best possible patient care, said Dr. John McCabe, chief executive officer of Upstate University Hospital. She is deeply committed to the hospital and the community. We are pleased shell be serving as our new CNO.
Formerly, Page served as director of quality and patient safety, emergency medicine at Upstate University Hospital. In this role she provided leadership within the academic department of emergency medicine, particularly focusing on creating a culture of safety and developing a proactive response to quality and patient safety risks. She has held progressive leadership positions during her 32-year career at Upstate University Hospital. Previous roles include patient safety officer, coordinator of nursing practice and pediatric clinical nurse specialist.
University Hospital was seeking a senior nursing executive to provide effective leadership to the nursing division and drive continued commitment to performance improvement, patient safety and quality, said Kathy Noland, vice president of senior executive search for B. E. Smith, the healthcare executive search firm who conducted the nationwide CNO search for Upstate University Hospital. Nancys nursing leadership, knowledge of and commitment to the organization is an ideal fit.
Page earned a Master of Science in Pediatric Nursing from the University of Rochester in Rochester, N.Y., and a Bachelor of Science in Nursing from SUNY Health Science Center in Brooklyn, N.Y. She earned Patient Safety Leadership Fellow status with the American Hospital Associations Health Research and Educational Trust.
About Upstate University Hospital:

Upstate University Hospital is affiliated with the State University of New York and is a two hospital system along with a large ambulatory care enterprise. It is part of SUNY Upstate Medical University and is the only academic medical center in Central New York. The two hospitals have a 580-bed capacity offering an array of specialized medical services to the region, including a Level 1 trauma center, Clark Burn Center, Upstate Stroke Center, Heart & Vascular Center, Labor and Delivery/Womens Health, Cancer Center, Joslin Diabetes Center and the regions only childrens hospital, Golisano Childrens Hospital. For more information, visit http://www.upstate.edu.
About B. E. Smith:

Founded in 1978, B. E. Smith is a full-service healthcare executive search firm and the top-ranked provider of senior-level leadership services including Interim Leadership, Executive Search and Management Consulting. Veteran healthcare recruiters and regional healthcare experts partner with each client to create customized solutions. B. E. Smiths proven methodology has resulted in the recent placement of more than 900 leaders into healthcare organizations worldwide. The firm utilizes a comprehensive sourcing strategy incorporating the latest marketing techniques, association partnerships, social networking and one of the largest databases of skilled nursing executives in the industry to deliver immediate results in todays complex healthcare environment. For more information, visit BESmith.com or call 855-254-8261.