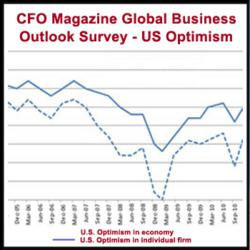 Minneapolis, Minnesota (PRWEB) October 07, 2012
The Duke's Fuqua School of Business / CFO Magazine Business Outlook Survey just released quarterly results for 887 U.S. firms, It is an example of the significant role our magazines play today in business news. Many companies rely on published industry specific data and current reports for their influence on making upcoming business decisions. Businesses can rise above the challenges that slow their in-house marketing efforts; engaging help to make marketing initiatives take off.
Eric Sims, owner of Integral Media says, "The magazine serves businesses with the ability to forecast results".
According to a recent study conducted by CFO Research in collaboration with American Express, CFO's around the world are planning to invest their dollars in the race to reach consumers in emerging markets. The strategy is summed up by a new emerging term called value discipline that is, directing resources where they are most likely to yield returns.
The fifth annual Global Business and Spending Monitor included a survey of 541 senior finance executives at leading global companies drawn from a wide spectrum of industries in the United States, Canada, Europe, and more. Marketers carry enormous weight as they determine how to allocate marketing priorities and funds to value disciplines.
Inside individual companies, one concern is clear – and that is the ability to maintain margins more than three-quarters of finance executives (76%) cited it as a top three issue. Working capital management and the ability to forecast results were worries for many. And about one third (34%) said that it was difficult to maintain morale and productivity among employees in this environment.
Survey Director John Graham outlined the major findings of the third-quarter Duke University/CFO Magazine Global Business Outlook survey, chiefly that CFO's expect financial results over the coming 12 months to improve. The average survey participant said they are looking for a 7.3% increase in revenue and a 6.4% increase in earnings.
Duke's Fuqua School of Business / CFO Magazine Business Outlook For Advertising And Marketing Spending was up from a year ago at 2.1% to 3.2%
September 2012: 3.2%
June 2012: 3.3%
March 2012: 3.3%
December 2011: 2.3%
September 2011: 2.1%
Additional Finding In The CFO Magazine Survey Were:


A 6.7% increase in dividends is expected to be paid.
Cash balances are forecast to rise by about 6%.
Wages and salary growth, however, will be almost flat (0.8%), while capital spending will pancake (0.2%).
The number of domestic, full-time employees at respondents companies is projected to fall by 2.7%, while offshore outsourced employee counts are expected to rise by 6.1%.
"Targeting your marketing message to your most likely buyers will make the best use of allocated advertising dollars. Value disciplines and a markets knowledge to maximize media channels work to help businesses maintain profit margins," according to Eric Sims.
One of the most surprising results to the CFO Magazine survey was the perceived risk of Judiciary decisions and their effect on businesses. The types of decisions that courts make, the court processes by which decisions are made and the length of time it takes for the court systems to make decisions. "When we asked if the judicial system provides any kind of risk to your business, 30 percent of U.S. CFO's said, 'Yes, there is judicial risk'. That was a bit higher than we expected, to be honest," said John Graham.
Perhaps that is the result of the increase in the Federal Trade Commission's (FTC) findings and fining for unsupported marketing messages, or worse, fraudulent marketing. With the new FTC Marketers Guides released October 1st, clearly there are higher levels of responsibility business carry to support their marketing messages and tougher hurdles to jump for accuracy and supporting evidence.
Engage Integral Media, professional marketing consultants, for help determining how to drive your media buys and direct response advertising to gain the highest yield returns for your advertising and marketing spending. Contact us at 952-470-5254 for confident results that work.