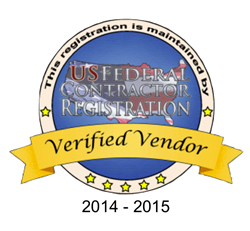 (PRWEB) June 09, 2014
GovKinex, a division of US Federal Contractor Registration has started to promote its newest service to businesses interested in marketing to the Federal Government. US Federal Contractor Registration has development the Simplified Acquisition Program that helps small businesses gain a solid foothold in the federal marketplace. US Federal Contractor Registration created the Simplified Acquisition Program to provide resources that help procurement officers make their decision when picking a candidate for a government contract.
US Federal Contractor Registrations Simplified Acquisition Program includes the following:


GovKinex government-formatted website that includes up to 7 pages. Pages include Landing Page, Vendor Profile, References, Past Performance, Product/Services, Contact Page and Photo Gallery.
System for Award Management (SAM) registration or CCR/ORCA Migration to SAM
Branded Domain name and web hosting
Search Engine Optimization (SEO) for Google, Yahoo, Bing, etc.
Monthly e-mail bid notification and contract support
Complete government business plan designed to provide your business direct access to buyers and prime vendors in your industry.
Customized official government profile added to the Federal Government search database.
US Federal Contractor Registration has registered over 60,000 businesses in System for Award Management (SAM). Some of the businesses include Fortune 500 companies, non-profits and even government agencies like the DoD and USDA. Businesses have chose US Federal Contractor Registration because of their professional track record and global procurement connections.
US Federal Contractor Registration is encouraging businesses to use other their service to become properly registered for government contracting. US Federal Contractor Registration prepares a contractor for the road that is ahead in government contracting. Some of US Federal Contractor Registrations services include yearlong technical support, annual SAM migration updates, a USFCR federal buyer newsletter, the creation of a FEMA Vendor profile, grant assistance if needed, NAICS code research and the highly-recognized Verified Vendor Seal of Approval.
US Federal Contractor Registration has registered over 60,000 private sector businesses in the SAM registration some of which include McGraw Hill, HP, Wells Fargo, Xerox, GoodWill, Dixie, UPS, Heinz, Sheraton Hotels, Marriott, Westin, Interstate Oil, CITI, and Coldwell Banker. As well as academic institutions and colleges like NYC, Northwestern, Oxford, Southwestern, and Mercer. Numerous federal agencies like US Army, US Navy, Veteran Affairs and United States Department of Agriculture have also had their government paperwork facilitated by US Federal Contractor Registration Case Managers.