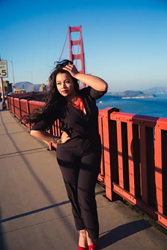 San Francisco, CA (PRWEB) February 18, 2015
Today, IGIGI, a USA-made brand for plus-size women , welcomes spring with the release of its Modern Romance Collection. The collection is available in sizes 12-32 at http://www.igigi.com and select specialty boutiques worldwide.
Modern Romance is a beautiful fusion of the brands celebrated vintage flair and contemporary expressions in bold and exotic prints. Black and white geometric prints, stripes, large-scale floral prints, and vintage polka dots are some of the seasons prominent trends seen across the collection. Plus-size model, Naimah Terry , graces the campaign imagery shot by Marc de Paola in San Francisco, CA, against the spectacular backdrop of the Golden Gate Bridge.
IGIGIs vintage-inspired signature silhouettes reinterpreted with contemporary custom-made prints give Modern Romance its unique flair. The Adelle Dress in Cobalt Beatnik features a fit-and-flare style with a contemporary large-scale geo print in the skirt, delivering the perfect balance between a modern aesthetic and a vintage twist. A new element of the collection is the application of contrast piping in the Corinna Dress, bringing in a unique detail. Another is the use of the onset ruffle detail in the chiffon skirt of the Raquel Dress, providing a very feminine and flirty look. The Louise Jacket and matching Mariah Skirt in Tahitian Nights are cut from a bold islands-inspired type of floral print, perfect for stylish spring suiting.
IGIGIs design team says, We really put a lot of effort into this collection. We tried to give our customers what they love from IGIGI and also really provide a wide arrange of silhouettes and bold, exciting prints. We hope these great clothes inspire them to get out there and do something theyve never tried before!
IGIGIs mission is to transform the worlds view of beauty by providing ladies with the tools and collections to make them feel empowered, beautiful, and radiant while ultimately shifting the perspectives surrounding plus-size females. IGIGIs clothing reflects these values.
Since its inception in February 2000, the company has remained committed to using special techniques to flatter the plus-size figure, designing all the collections in-house and manufacturing locally with San Francisco Bay Area contractors.
In each part of our business, we strive for perfection to serve our customers in the best way possible. In everything we do, we focus on the customers needs and desires, says CEO Alex Brodsky. We use plus-size patterns and models, use fabrics that are trendy and of high quality, scale to size 32 in order to fulfill the demands of size diversity, and most importantly, we manufacture locally to keep our quality top-notch, consistent and supportive of the local economy.
For more information about IGIGI and its unique, USA-made womens plus-size fashions, please visit http://www.igigi.com/.
About IGIGI

Headquartered in San Francisco, CA, IGIGI was founded in 2000 with a mission to transform the worlds view of beauty by providing full-figured women with fashion-forward, quality, and well-fitting clothes to enhance and express their innate beauty. Collections are designed in-house and produced locally through independent San Francisco Bay Area contractors.
IGIGI has been featured in major fashion and life style magazines including In Style, Marie Claire, The Oprah Magazine, People StyleWatch, Ladies Home Journal, Glamour, and Essence, and is a favorite among curvy celebrities such as Kim Coles, KayCee Stroh, Jill Scott, Kelly Price, Ashley Fink, Martha Wash, and Gabourey Sidibe. IGIGI collections are available online at http://www.igigi.com and select boutiques worldwide.
#
Image SEO Metatext:

Caption:

IGIGI Modern Romance Collection

Description:

Women's plus-size model Naimah Terry graces the Modern Romance campaign, looking radiant in IGIGI's unique, USA-made collection.

ALT Text:

Naimah Terry models IGIGI's USA-made women's plus-size Charmeine Jumpsuit on the Golden Gate Bridge