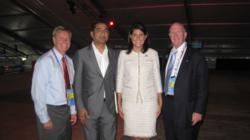 Washington D.C (PRWEB) September 09, 2012
The US India Political Action Committee (USINPAC) hosted receptions at the both the Republican and Democratic National Conventions over the past two weeks. These receptions were attended by South Carolina Governor Nikki Haley, Republican South Carolina delegates, Indian-American delegates and candidates, Ambassadors and other senior members of various international diplomatic missions.
USINPAC Chairman Sanjay Puri hosted the events and said of them, For more than a decade we have worked with many local, state and federal candidates on both sides of the aisle, and continue to lend our support to leaders who stand for issues important to the Indian-American community. At the DNC and RNC receptions we reiterated our support to these leaders.
South Carolina Governor Nikki Haley was the guest of honor at the RNC reception. Speaking on the occasion she was appreciative of the continuing support of the Indian-American community before and after her election. She offered to travel to different to engage with the community and speak to them about the choice they face this November.
This election season, USINPAC is supporting Indian-American candidates such as Tulsi Gabbard, Ami Bera, Manan Trivedi, and Upendra Chivukula who are inspirations to the community. Increasing the participation of the Indian-American community in US politics has been a mission for USINPAC, and it is heartening to seeing young Indian-Americans increasing running for office. We continue to support the candidates through fundraisers, grassroots outreach programs, open houses and outreach through USINPACs web portal.
About USINPAC: The US India Political Action Committee (USINPAC) is a bi-partisan non-profit organization and the voice of 2.7 million Indian-Americans. It works to impact policy on issues of concern to the Indian-American community in the US. For more information visit us at http://www.usinpac.com

Follow USINPAC on Twitter, Facebook and LinkedIn