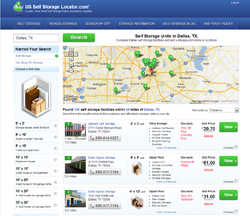 North Miami Beach, FL (PRWEB) April 29, 2013
USSelfStorageLocator.com released today that they have projected that almost one million visitors will use their powerful search engine to locate self storage units in 2013. Visitors will be searching for self storage units in Houston, self storage units in Los Angeles, self storage units in Chicago, self storage units in Orlando and many other major metropolitan cities across the Country. Traffic sources will be driven to USSelfStorageLocator's powerful self storage search engine from organic searches, direct searches, p.p.c. campaigns, email marketing, social media tools and many other resources.
These numbers are higher than expected and is directly related to the growing popularity and demand there is for self storage units in the United States, as well as the most popular search engines liking USSelfStorageLocator's platform.
"Results like we've been having and will continue to have are credited to our seo, sem and social media teams which have been driving our Analytics to new heights daily," say Victor Dante , CEO.
USSelfStorageLocator.com is just getting warmed up they are reaching a stride, blasting through goals, but have not yet remotely tapped into their full growth potential.
There are over 315,762,442 people in the U.S. and only 1 in every 10 households rent self storage at this time. As more people recognize the many uses there are for self storage, this number should increase to close to 2 out of 10 households over the next 3 to 5 years, especially if the economy kicks in. 10's of Millions more renters will be added to the self storage industries customer base.
The demand is expeditiously increasing, and USSelfStorageLocator search engine is helping self storage renters, by supplying them, with over 5,000 of best self storage properties in the United States.
About USSelfStorageLocator.com

USSelfStorageLocator.com is an online self storage comparison shopping site. Consumers are able to locate, compare and reserve a self storage unit or vehicle storage online or by a live call center, anywhere at any time. USSelfStorageLocator.com features software integrations with all major property management systems and uses the most advanced technology to pull data and push reservations in real time. USSelfStorageLocator.com's team is comprised of self storage and technology professionals, and headquartered in North Miami Beach, Florida. For more information, please contact them at 888-222-0225.