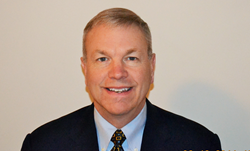 Springfield, VA (PRWEB) April 01, 2015
VADM William D. French officially transitions to Armed Services YMCA (ASYMCA) CEO and President effective March 30, 2015. Former President and CEO, Mike Landers, is retiring from serving military families and service members through his leadership at the ASYMCA.
I have been blessed with the opportunity to further the mission of the Armed Services YMCA for the past 15 years and to actively influence the size and scope of our impact for the past five years as the President and CEO, said Mike. The organization is poised to expand our programs and services and I am very confident that Bill is exactly the right person to lead the ASYMCA, and that he will maintain our distinctive mission to serve our junior enlisted troops and their families, and help make their military life easier.
VADM French joins the ASYMCA after more than 35 years of service in the US Navy.
"I am very excited to be a part of the Armed Services YMCA family and contribute to a team dedicated to improving the lives of our junior enlisted service members and their families, said French. I will continue to focus on building our presence in our military community, to reach as many as we can, and help make military life easier for those who serve our nation.
French has a strong commitment to continue to build on the rich history of the ASYMCA (celebrating 154 years of service to the military in 2015). Last year, the ASYMCA provided help to more than 500,000 junior enlisted troops and families. This level of effort was made possible through the support of over 15,000 volunteers and numerous public donations.
The ASYMCA works closely with installation and garrison commanders to determine the needs of the military communities surrounding their 34 branch and affiliate locations, then tailor programming and services to meet those needs.

Our relationship with commanders on the ground level is vital to understanding how we must operate now and in the future, said French. My experiences both as a military leader, and my prior interaction with the ASYMCA, give me a unique perspective on how we can expand our support. Im looking forward to working with our Armed Services YMCA branches across the country to help make military life easier for our troops and their families.
####
ABOUT ASYMCA

-ASYMCA focuses support on junior enlisted (E-5 and below) and their families:

-They are the group most in need and critically need our support

-Typically 18-25 years old

-Over half are married

-60% of family members are children

-Salaries are less than $ 24,000 annually

-Most have deployed multiple times

-The ASYMCA provides support to over 500,000 service members and their families annually. As the Depart of Defense makes budget cuts, we will be asked to provide additional services to bridge the gaps.

-Our more than 15,000 volunteers deliver almost 127,000 volunteer hours each year

-Eighty-nine cents of every dollar donated goes directly to support programs

-Charity Navigator ranks the ASYMCA in the top 2% of all charities they rate, and has consistently been recognized as a top-rated charity

-As a national member association of the YMCA of the USA, we operate more than 200 program centers nationwide at 34 branch and affiliate locations.

-In coordination with the DoD and installation commands, we work closely to identify gaps in support and services currently available, and tailor our programming to meet those needs
.

# # # #