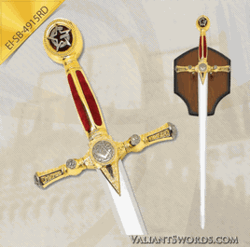 (PRWEB) February 28, 2013
It was previously announced that Valiant Swords, a premium sword retailer, was in the process of switching to Magento, an E-Commerce platform. After much work in re-designing and moving hundreds of products into the system, Valiant Swords is proud to announce its completion and launch on Magento in early March. This promises to be an exciting change and falls in line with Cloud Shops (parent company) goal of having stores on multiple platforms to test and gain experience on these shopping carts.
Taking on Magento as a new platform will allow Valiant Swords to provide great benefits for the company and its customers. One of the advantages is layered navigation, making it easier for customers to find what they are searching for with fewer clicks. Another perk is more flexibility with greater ability to customize the Valiant Swords site like never before. This platform will allow the addition of modules to aid in increased conversion, site usability, and marketing tools. In addition, Magento has incorporated better URL design and SEO practices right into the platform, thus improving SEO overall.
Upon the launch of Magento, customers will still be pleased to find Valiant Swords best selling products on the platform, including the classic Masonic sword. This massive sword features a polished, stainless steel blade with a cast metal guard and pommel, containing brass plating and historical engravings and symbolism. This is an elegant sword perfect for collectors and includes a display plaque.
Another popular item that will appear on the Magento platform is the Viking sword. Historically authentic to early Viking sword designs, this piece is made of 18-gauge steel with deep fullers and a nicely tapered point. It also features a lobed pommel, brown scabbard, and brass fittings. Whether for display or used for light swordplay, this weapon is a winner.
Valiant Swords also has many more sword lines including Samurai, Chinese, Medieval, Roman, and much more. To see the complete offerings, visit http://www.valiantswords.com/.