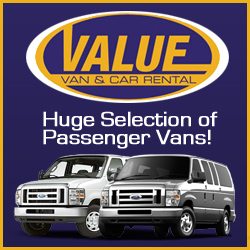 Newark, NJ (PRWEB) October 07, 2012
Value Van and Car Rental has recently revamped its website focusing on a user-friendly format. Incorporating a new reservation system, an intuitive navigation bar, and eye-catching graphics, Value Van and Car Rental offers an effortless way for its customers to find a car, SUV, truck or van rental.
As a car rental company that has been in business for more than 25 years, the employees at Value Van and Car Rental understand that as the customers needs change, the company must adapt. By developing a novel website with unique content, rental specials, and convenience, the company made the customer experience its focus.
Without customers, a business cant expect to get anywhere, so why not make their experience with your company the best you possibly can? said Kelly Coon with Value Van and Car Rental. Our focus is our customers, and providing them with the best online experience for our rentals was the least we could do.
With the assistance of The Web Guys, a search engine marketing company specializing in search engine optimization and user accessibility, Value Van and Car Rental has also integrated various social media elements to the website. Users who wish to stay current on the companys rental deals, specials, and rate changes can now easily do so by visiting the blog or following the company on Facebook or Twitter.
About Value Van and Car Rental

Local and international business people, families, companies, and individuals have trusted Value Van and Car Rental as their chosen rental car company for over 25 years. Located in Union, New Jersey, Value Van and Car Rental offers quality van rentals, SUV rentals, and car rental options to make any business trip, vacation, or getaway a success. Value Van and Car Rentals staff provides fast, friendly and helpful customer service that is customized to each renter.
More details about Value Van and Car Rental can be found directly at their website: http://www.valueautorental.com. The company can also be contacted by telephone at 908-851-9595.