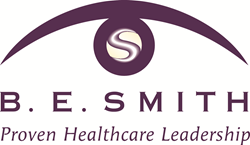 LENEXA, Kan. (PRWEB) May 07, 2015
B. E. Smith, the only full-service leadership solutions firm dedicated exclusively to healthcare providers, has been retained to lead a national chief executive officer recruitment for Van Wert County Hospital in Van Wert, Ohio. The top executive search firm in the healthcare industry, B. E. Smith has recently placed more than 900 healthcare executives into organizations.
Van Wert County Hospital (VWCH) is a 100-bed, financially independent, non-profit community health system serving Van Wert County and adjacent communities. The hospital is dedicated to meeting the health needs of the community by continually endeavoring to improve the quality of patient care and providing an environment of excellence. In 2013, VWCH was awarded the Guardian of Excellence award from Press Ganey, recognizing top-performing facilities that consistently achieve the 95th percentile of performance for patient satisfaction.
Van Wert County Hospital is seeking a chief executive officer to provide strategic leadership and vision that will allow the organization to continue to maintain profitability and enhance the patient experience. The new CEO will leverage financial and business acumen to direct current joint ventures and identify new opportunities to grow market share and expand programs and services. The CEO will employ strategies and processes to improve operational efficiency, patient satisfaction and employee/physician engagement. Additionally, the CEO will partner with the hospital leadership team to establish a culture focused on building positive relationships and lines of communication, as well as driving community involvement and engagement.
The complete job posting for Van Wert County Hospitals CEO position can be found on the B. E. Smith website.
About Van Wert County Hospital:

For more than 100 years, Van Wert County Hospital has been delivering superior patient care and advancing new treatments. As an independent non-profit community health system, Van Wert County Hospital remains committed to the regions healthcare needs for generations to come. Van Wert County Hospital is committed to today, focused on tomorrow. For more information, please visit http://www.vanwerthospital.org.
About B. E. Smith:

Founded in 1978, B. E. Smith is a full-service healthcare executive search firm and the top-ranked provider of senior-level leadership services including Interim Leadership, Executive Search and Advisory Services. Veteran healthcare recruiters and regional healthcare experts partner with each client to create customized solutions. B. E. Smiths proven methodology has resulted in the recent placement of more than 900 leaders into healthcare organizations worldwide. The firm utilizes a comprehensive sourcing strategy incorporating the latest marketing techniques, association partnerships, social networking and one of the largest databases of skilled senior-level healthcare executives in the industry to deliver immediate results in todays complex healthcare environment. For more information, visit BESmith.com or call 855-254-8261.