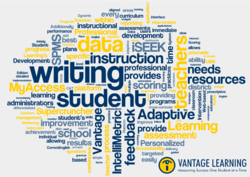 Yardley, Pa (PRWEB) March 07, 2013
Scott Kramer and Dr. Matthew Schulz, executives at Vantage Labs and its divisions: Vantage Learning and McCann Associates, will present the companys IntelliMetric technology the gold standard in automated essay scoring at the Assessment Tomorrow Conference to take place in London, England on March 20 and 21, 2013. The event was developed to showcase companies that offer the latest technologies being adopted in the assessment world for education, government and corporate testing.
Used for both low- and high-stakes assessment environments, the most important application of IntelliMetric has been in the area of assessment and instruction. IntelliMetric technology powers Vantage Learnings award-winning MY Access!