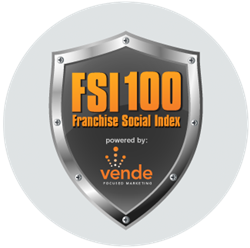 Dallas, Texas (PRWEB) January 13, 2014
Vende Social today announced the launch of the Franchise Social Index (FSI 100), a unique peer ranking index of the top franchise brands based upon how well they perform in social media sites Facebook and Twitter. The FSI 100 will be updated each week and will rank the top 100 franchise industry brands. Results will be posted each Monday on the Vende Social website (http://www.vendesocial.com/fsi100).
To build the FSI 100 report, Vende Social analyzes over 500 franchise brands each week to identify the top 100 that make up the index. These companies are analyzed using over 32 criteria and are compared to over 100,000 of the top performing brand profiles on Facebook and Twitter.
The posted results will include a companys current position in the FSI 100, their position in the previous week, and the number of times the company has been included in the index overall, as well as indicators that identify upward and downward trends in the index.
The purpose of the FSI 100 is to identify and rank franchise brands according to how well they are connecting with their customers through social media channels, said Paul Slack, founder of Vende Social. Monitoring a franchise companys social community and how their fans react to what the company says in social media allows us to measure a brands consumer influence. This gives us new insights into how well franchise companies are wielding their influence to promote their brand.
The FSI 100 is not intended to endorse, advertise or recommend any particular franchise.
About Vende Social

Vende Social (http://www.vendesocial.com) is an industry-leading social media marketing consultancy working primarily with franchise brands, franchisees, multi-location and multi-channel businesses. Vende Socials services are designed to help clients expand their online footprint by tying all of their web marketing together to achieve a common goal.