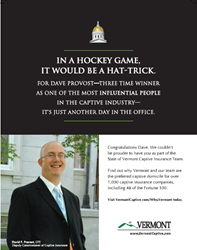 Montpelier, VT (PRWEB) December 22, 2014
The January 2015 edition of Captive Review featured their ranking of the 50 most influential people in the captive industry, and according to those contributing to the poll, once again Vermont has considerable influence.
Vermonts chief regulator, David Provost, Deputy Commissioner of the Captive Insurance Division is number two in the overall world ranking. He has held a top three spot for each of the three years the magazine has published the list.
David leads a great team and we are proud of this recognition for him and our entire captive insurance team, said Vermont Governor Peter Shumlin. We are not surprised that the industry knows what we already know in Vermont.
The State of Vermont is not the only star in the poll results. A prestigious group of industry providers based out of the Green Mountain State including, Julie Boucher, Managing Director of Marsh, Bob Gagliardi, Managing Director of AIG Insurance Services, Les Boughner, Executive VP at Willis; and John Prescott, Partner of Johnson Lambert were recognized.
The Vermont Captive Insurance Associations (VCIA) President Richard Smith was also on the list. The VCIA is the worlds largest trade association for captive insurance. Dan Labrie, CEO of Vermont-domiciled Housing Authority Risk Retention Group, also made the list.
We tout our industry infrastructure as the best in the world, said Dan Towle, Director of Financial Services. The combination of our regulatory staffs expertise and the talented professionals recognized in this list is what makes Vermont the Gold Standard of domiciles.
The complete list of Captive Reviews Most Influential list can be found at http://www.captivereview.com.
Captive insurance is a regulated form of self insurance that has existed since the 1960s, and has been a part of the Vermont insurance industry since 1981, when Vermont passed the Special Insurer Act. Captive insurance companies are formed by companies or groups of companies as a form of alternative insurance to better manage their own risk. Captives are typically used for corporate lines of insurance such as property, general liability, products liability, or professional liability. Growth sectors of the captive insurance industry include professional medical malpractice coverage for doctors and hospitals, and the continued trend of small and mid-sized companies forming captive insurance companies.
For more information on Vermonts captive industry, visit http://www.VermontCaptive.com, call Dan Towle at 802-828-5232 or email dan(dot)towle(at)state(dot)vt(dot)us.