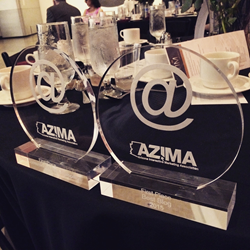 Phoenix, AZ (PRWEB) March 31, 2015
Phoenix-based Internet marketing agency Vertical Measures has been awarded two TIM digital marketing awards by AZIMA, the Arizona Interactive Marketing Association.
The awards were held on Thursday, March 26th at the Phoenix Art Museum. Named after Sir Timothy Berners-Lee, the renowned father of the internet, the AZIMA TIM Awards were created to highlight the outstanding efforts of companies and individuals in the digital marketing realm of Arizona.
The Vertical Measures content marketing blog, one of the leading Internet marketing blogs on the web, took honors for Best Blog. This multi-author blog covers a broad variety of topics like content creation and strategy, search engine optimization, and pay-per-click advertising. Multiple forms of original content are delivered to followers 2-3 times a week, ranging from blogs to videos, infographics to resource lists. In 2014, 155 pieces of content were published from over 15 different authors and content creators.
The AZIMA judges made these remarks about the Vertical Measures blog:

Good mix of timely relevant posts and recurring themes.
Design is excellent and works within the existing site structure for lead generation and exploration opportunities.
Sharing behavior is outstanding.
This was an exciting win for all of us because our blog is a tremendous team effort, said Quinn Whissen, Marketing Manager for Vertical Measures. From designers to writers, editors to contributors, our blog is a true testament to our company values. Its not enough to tell our clients how to manage their content; we have to practice what we preach. Im proud of how our team lives up to these ideals via our blog.
Vertical Measures also took home an award for Best Content Marketing Campaign for their work on HowtoConvinceYourBoss.com. Convince Your Boss is a micro-site built to equip marketers with the tools needed to be able to convince their boss to invest in content marketing. Visitors can find articles, ways to respond to objections, expert video insights, tools, stats, and presentation templates. All of this will help prepare them for pitching the decision makers and starting a pilot program. Judges were impressed, saying it is a perfect example of how to transform a common issue/problem into a viable resource for a crucial audience.
We were excited to be recognized by AZIMA and the Arizona digital marketing community as a whole for both our blog and Convince Your Boss. Phoenix is our home base and we are proud to be a part of this vibrant and ever-evolving industry. We are honored to celebrate everyone's accomplishments, including our own," said President of Vertical Measures, Chris Bird.
# # #
BACKGROUND

Vertical Measures is a full-service Internet marketing agency dedicated to helping clients drive profitable growth through content marketing. Based on the principles outlined in Vertical Measures proven 8 Step Process, the agency creates integrated digital strategies, content pieces, and targeted SEO & PPC campaigns for organizations large and small. As an industry leader, Vertical Measures publishes in outlets like CMI & Phoenix Business Journal, teaches educational content marketing workshops and seminars, and brings customized onsite training directly to internal teams.