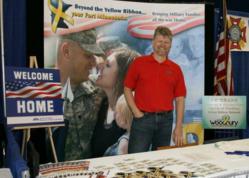 Minneapolis, Minn. (PRWEB) February 08, 2013
Globe University, Minnesota School of Business and Broadview University were named again this year to the 2013 edition of GI Jobs Military Friendly Schools, the well-respected directory of colleges and universities. For the 2013 edition the publication toughened its criteria for evaluating schools, and for the first time, included survey results from 3,000 student veterans. Numerous veterans personally recommended Globe University and its affiliate schools.
Globe is truly a military friendly college. They allowed me to take tests online when I went with my husband to Ft. Knox for medical exams and care. I receive information from the Globe military staff about programs and benefits that might be of interest to military families, said Cheryl Felton.
Military Advanced Education (MAE) magazine also included Globe and affiliates in its 2013 Guide to Military-Friendly Colleges & Universities. Published since 2005, MAE serves armed services education service officers and other stakeholders who work with service members, veterans, and their families during active duty, transition, and post-transition to optimize their armed forces educational benefits.
Schools in MAEs guide are evaluated in such areas as on-campus support, financial, military culture and flexibility.
Recent Globe University IT graduate Anil Thobani is a U.S. Army combat engineer veteran with a tour in Afghanistan: It may seem clich