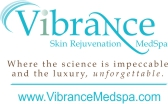 Denville, NJ (PRWEB) April 28, 2015
Evans Alliance Advertising proudly announces Vibrance MedSpa as winners in the 2015 Best of Awards for Morris and Essex County. The annual Best of Morris/Essex Health & Life Magazine Awards focus on the top businesses operating within the area. The awards are broken down into an assortment of categories that are designed specifically for each industry. Vibrance MedSpa, http://www.vibrancemedspa.com located in Denville, NJ, received two awards during 2015, within the Best Beauty and Health category, for outstanding facials and hair removal. Vibrance MedSpa is a full service spa with highly trained and certified medical professionals who work with clients to determine the best spa treatments to suit their needs. Vibrance MedSpa has worked with clients throughout Northern New Jersey and New York for many years; they have been able to cultivate a professional environment while maintaining a spa-like atmosphere where clients are comfortable and relaxed.
Morris/Essex Health & Life Magazines Best of Awards recognizes top companies, services, and products in their area by asking community members and businesses to weigh in with their favorites. This years Best of Awards was the most competitive in its history, with the highest number of award submissions to date. During February and March of 2015, Morris/Essex Health & Life Magazine requested that readers participate in a Readers Choice contest which would determine the winners of their Best of Awards. Readers were prompted to vote in a variety of categories and given the option to submit businesses or establishments not listed on the magazines website.
Vibrance MedSpa wants every experience to be amazing for its clients. They are dedicated to being leaders of their industry in both service and products, which is why they have customized their amenities to meet their clients needs. Vibrance MedSpas highly-trained skin care professionals work with clients using FDA-approved and results-oriented techniques and products for non-surgical facelifts and other specialties. Their full range of services includes laser and light treatments, aesthetic enhancements, treatment for excessive sweating, cellulite treatment, skin care treatments and skin care enhancements. These services incorporate skin rejuvenation, laser skin resurfacing, skin tightening, laser hair removal, Blue Light Acne Treatment, Botox, Coolsculpting, Juvederm, VelaShape, facials, Vibradermabrasion and the Triniti Skin Series. At Vibrance MedSpa all aesthetic enhancements and laser/light treatments are performed by Board Certified Physicians. They offer client consultations with Skin Care Professionals to discuss in-detail individual cosmetic needs. Vibrance MedSpa works diligently towards clients desired outcomes and ensures top quality and professionalism throughout your care.
Winning the Best of Award for facials and hair removal in 2015 has been an exciting experience for everyone at Vibrance MedSpa. Our main goal has always been to ensure that our clients receive excellent service and treatment while they are within our care and this award signifies that our commitment to top quality is evident to our community. We would like to thank the participants in the voting process, Morris/Essex Health & Life Magazine for this occasion and Evans Alliance for elevating our brand and advertising in print, direct mail, and television stated Leslie Magee, Owner of Vibrance MedSpa. We are proud of our staff and their knowledge and invite everyone to come in and see why Vibrance MedSpa was voted BEST in 2015.
Evans Alliance is a full service advertising agency conducting business in the US, Canada, UK, and Asia Pacific. The Agency serves as a one-stop supermarket of branding, advertising, and marketing services for clients of all sizes. As an integrated services firm, they offer clients a blend of strategic consulting and marketing services coupled with key branding strategies and creative outreach, utilizing a multidisciplinary combination of innovative marketing programs. They believe in the aggregate value of excellence in Web Design, Search Engine Optimization, Social Media, Digital Marketing, Print, Radio & Television, Direct Mail, Outdoor, Billboard and Email the right balance, ratio and timing of all things that engage and proclaim the unique virtues of each business and every brand. Evans Alliance serves businesses in the Consumer Goods, Durable Goods, Retail, eCommerce, Technology, Telecommunications, Financial Services, Education, Construction, Internet, Fine Arts, Health Care and Auction industries.
For more information about how to schedule your appointment with this years Morris/Essex Health & Life Best of 2015 Award Winners, contact Vibrance MedSpa at 973.328.1700 or visit http://www.vibrancemedspa.com.
For more information about advertising with Evans Alliance Advertising visit http://www.evansalliance.com