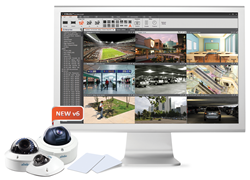 Houston, Texas (PRWEB) April 25, 2015
Video Insight, a leading developer of enterprise IP video surveillance software, will showcase new features for VI Monitor v6 at Expo Seguridad in Mexico City, Mexico. Hosted at the Banamex Center, Expo Seguridad Mexico, powered by ISC, is an international security event with over 28 countries participating.
Attendees interested in learning more about Video Insights latest release, available in Spanish, will have an opportunity to do so by visiting booth #1224. The Video Insight team will offer visitors an in-depth demonstration and the opportunity to speak with account specialists about the new integrated access control functionality, how to save time and labor costs with new camera configuration tools available, and large site server/camera organization with the use of v6 resource groups.
Video Insight will also showcase the latest release for VI Monitor for Mac, the new VMS client that allows users to access live and recorded video from any camera on the surveillance system using an Apple computer. Users even have the ability to easily take and share snapshots or video clips within the new client. As an added extension of the VI Monitor v6, it is free with no additional licensing fees.
Expo Seguridad is the hub for security in Latin America not only attracting companies from Mexico but from Colombia, Brazil and other Latin American countries, said Domingo Martinez, Director of Marketing and Global Communications for Video Insight. Expo Seguridad provides a great opportunity to reach out to partners, solution providers, decision makers and leaders in the security community. With such a diverse assortment of attendees, Expo Seguridad allows our team to interact and learn about our partners and customer needs, future requests and get great feedback in the process.
For more information about Video Insight, visit http://www.video-insight.com.
About Video Insight, Inc.

Video Insight is a member of the Panasonic Group and a leading IP video surveillance management software used by over 25,000 customers in the financial, government, retail, and transportation sectors with a very strong presence in the education market consisting of 5,000 K-12 school/college customers. Video Insight is the easiest and most cost-effective Enterprise VMS with support for over 3,000 camera models and integration with the top access control solutions in the market. Visit http://www.video-insight.com or call 713-621-9779 for more information.
For more information:

Domingo Martinez, Marketing Director

713-621-9779

communications(at)video-insight(dot)com