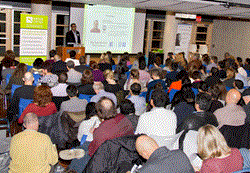 Toronto, Ontario (PRWEB) September 19, 2013
The December 2012 Donate & Learn Workshop focused on search and social media marketing for businesses. The entire Workshop marketing campaign was centered around a piglet named Doug, who (like many entrepreneurs) faced an online marketing dilemma with his business Pulled Pork Designs.
Video marketing is a complex practice requiring a thorough understand of the target audience, their online behaviours and preferences, as well as the emotions that resonate and elicit audience engagement.
The magic behind the Donate & Learn Workshop Promotional Video is the Toronto based BIG3 Video Agency. The Donate & Learn initiative has a unique challenge due to the broad audience base including entrepreneurs, small and medium business owners, marketing professionals, social media experts, non-profits, executives, graduates and students.
With an exciting, entertaining and funny video featuring a cute and likeable mascot, the promotional video was a success and appealed to various age groups, occupational profiles, and business sectors. The mascot Doug danced his way into the hearts of many with over 11,000 views on YouTube, 500+ Likes on Facebook, and reached all corners of the world with comments coming from as far away as Australia.
The Next Donate & Learn Expo – December 2013:

Stay tuned to Green Lotus, Doug may be making a comeback for the next Donate & Learn Expo in December 2013, a half day event where business owners, like Doug, can build a professional and effective website (with the help of experts), learn about video, search and social media marketing, discover the latest technologies available to businesses and network with like minds.
About Bassem Ghali and Green Lotus:

Bassem is a Search Engine Marketing Strategist and a Speaker with more than 8 years of experience managing online marketing strategies for some of Canadians largest corporations including Canadian Tire, Direct Energy, and Toronto Star – New in Homes.
Bassem is the driving force behind Green Lotus and has an knack for creating innovative online marketing strategies for small, medium and large businesses.
Demonstrated success in online marketing has led to speaking engagements a various events including Search Engine Strategies (SES) Toronto, Newmarket Chamber of Commerce, Toronto Womens Expo, Middle East Finance Conference Toronto and more.
With a desire to support the community and increase awareness of local community non-profit organizations and charities, Bassem created the Donate & Learn Initiative which organizes educational online marketing workshops for entrepreneurs, business owners and professionals, with all proceeds donated to partnering charities.
Green Lotus: 1 Yonge Street – Suite 1801. Toronto, Ontario M5E 1E5. Toll Free: 1 800-878-1667