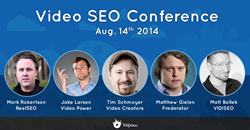 Dallas, Texas (PRWEB) July 07, 2014
Dallas-based Vidpow http://www.vidpow.com, an online video marketing training site where the nations most highly regarded video marketing experts offer training designed to help you promote and develop your business, debuts its first online conference today. Social media managers, agencies, online marketers, video marketers and producers all can benefit from this conference, which covers such topics as Understanding Search Intent and Keyword Research; YouTube Discoverability Science; On-Page Video SEO Optimization; Video Title and Thumbnail Science; and concludes with an Advanced Video SEO Tips Panel. The conference is a deep dive into the world of video SEO and best of all, speakers will take your questions directly during the conference.
Presenters include Mark Robertson, founder of ReelSEO; Jake Larsen, owner of Video Power Marketing; Matt Ballek, owner of VidiSEO; Tim Schmoyer, owner of Video Creators; Matthew Gielen, Director of Programming & Audience Development at Federator Networks and Cartoon Hangover; and Jeremy Vest, founder and CEO of Vidpow.
The time and resources required to produce a video are significant, so having a keen understanding of your audience and their needs before you even begin is absolutely critical for the results you want to achieve.
According to Nielsen, YouTube reaches more US adults ages 18-34 than any cable network. More than 6 billion hours of video are watched each month on YouTubethat's almost an hour for every person on Earth. Vidpows monthly online conferences are slated to cover all aspects of video marketing and empower you with knowledge you need to increase your views in a sea of competition. Members receive full access to all training, monthly conferences with access to previous conferences, the ability to Ask an Expert any video marketing question and industry discounts.
For more details or to enroll, go to http://www.vidpow.com.