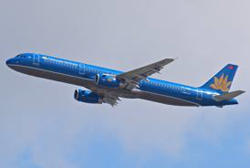 (PRWEB) April 16, 2014
Known as one of the most visited websites for booking air ticket online, Vietnamairfares.org has added 324 domestic flights on 16 routes during the upcoming Reunification Day and International Labour Day on April 30 and May 1.
According to the national flag carrier, from April 25th to May 5th, 308 flights with more than 50,000 seats in total are offered, more than 20 % compared with the regular flight timetable. As a result, the flights will serve an expected increase of 58,700 passengers during this holiday.
More seats will be provided for the flights on the routes of Hochiminh- Danang (91 flights), Hanoi- Danang (87 flights), Hanoi-Nhatrang (28 flights), Hanoi-Hochiminh (26 flights), Hochiminh-Phuquoc (24 flights) and Hanoi-Dienbien (23 flights).
To purchase tickets for the forthcoming holiday, visit the website at http://vietnamairfares.org/ or call +84 988 832 041 to meet the sales executive.
About Smile Travel Vietnam Company:

Vietnamairfares.org is operated by the Smile Travel Vietnam agency for purchasing tickets online for both domestic and international routes. Besides supporting airfares, the Smile Travel Vietnam agency has been offering tourism services, including visas on arrival, tour packages and hotel bookings.