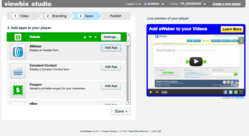 Tel Aviv, Israel (PRWEB) August 02, 2012
Viewbix, the revolutionary video technology that makes ordinary videos instantly interactive with dynamic apps, announced today a partnership with AWeber, an email marketing software to over 110,000 small businesses around the world, that offers Viewbix customers the ability to add an email marketing app to their customized Viewbix video player.
Individuals interested in learning more about the integration can join AWeber and Viewbix for a webinar on Tuesday, August 7, 2:00 3:00 p.m. EDT.
AWebers email marketing app enables Viewbix customers to increase the size of their mailing lists and grow their businesses by allowing viewers to sign up for a companys email list directly within a video before, during or after it plays. AWeber joins more than two dozen apps that can be easily added to a Viewbix player, including eBay auctions, Skype, YouTube, pictures from Flickr and Picasa, music, Google Maps and more. These apps serve to engage viewers, present them with immediate calls to action, and significantly increase reach and ROI.
Online video is great for generating traffic, but the tough part has always been converting those viewers to email subscribers, said Hunter Boyle, Senior Business Development Manager for AWeber. Now, with this integration, marketers can entice viewers to join their email and social media lists seamlessly — thats what makes this app such a powerful tool for growing your audience.
AWeber is the perfect addition to the Viewbix app offering, and we are pleased to welcome them aboard, said Jonathan Stefansky, co-founder and CEO of Viewbix. Marketers are always looking for new ways to reach their target audiences more effectively, and nothing is more effective than reaching them at the exact moment they are interacting with your brand. In fact, more than 20 percent of the viewers who watch a Viewbix-enabled video click on a call to action button or engage with at least one of the apps, which is great news for all our app partners.
Viewbix players support YouTube, Vimeo Pro, Facebook and other third-party videos and can be embedded and shared across the web, mobile devices and social networks. Designed to support the marketing efforts of SMBs, Viewbix uses the freemium model, providing two free players and Pro plans that offer advanced branding, apps and detailed analytics. A fully customized player can be created in minutes, and, as Viewbix analytics tracks every action that occurs, clients know how each app performs and can make changes instantly.
About AWeber
AWeber, helps businesses, entrepreneurs and bloggers increase sales and profits through its suite of web-based email marketing software. The privately held, debt-free company was founded in 1998. For more information, visit AWeber.com, subscribe to the AWeber blog (http://www.aweber.com/blog), or follow on Twitter (http://www.twitter.com/aweber) and Facebook (http://www.facebook.com/aweber).
About Viewbix
Viewbix offers innovative technology that enhances online video by adding interactive apps into the viewing experience. Today companies are looking for ways to maximize their reach and provide relevant information and opportunity for action within one screen and location. Viewbix empowers companies to leverage their videos through the insertion of interactive apps and share that experience across the web, mobile and social networks. For more information, please visit Viewbix.com, subscribe to the blog (blog.viewbix.com), or follow us on Twitter (http://www.twitter.com/viewbix) and Facebook (http://www.facebook.com/viewbix).
Media Contact:

Ann Krauss

Percepture

800-707-9190 x811

ann@percepture.com