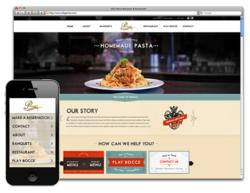 Sterling Heights, MI (PRWEB) December 14, 2012
Villa Penna Banquet & Restaurant is all about tradition. With deep Italian roots and a passion for hosting and serving guests – Villa Penna is often regarded as one of the finest banquet halls in Michigan. Since 1968, the Penna family has been deeply devoted to their customers and cherish every memory they've been apart of and help create.
From century old pasta rolling techniques to their old country charm – You can say that Villa Penna is all about tradition and like it that way; so do their customers. The only thing that has changed over the decades is how customers find great establishments such as Villa Penna Banquet & Restaurant.
Recently, Michigan web design company – Momentum, LLC partnered with Villa Penna to create their new online presence and help fuse their tradition with the technology of today.
Momentum, LLC started by meeting with decision makers to find out more. After learning about their history, goals, customers and services they put together a plan. Momentum, LLC refers to this part of their process as the discovery phase – which includes initial client interviews and requirements gathering so that all of the project details are defined up-front and proper expectations are set.
The plan was brilliant and ready to execute. The next step in their process is called the Design Phase. In the case of this project, Momentum planned and designed layouts for regular screens, tablets and mobile devices. They used a new technique referred to as "Responsive Web Design", which allows the website to recognize what type of device it is being viewed on and change the way that it is displayed.
According to Momentum's CEO and Founder, James Plouffe – Responsive Web Design should be considered for every web design project – "A majority of the websites that we've been creating lately rely on this new technique – it's the way of the future.Mobile and tablet device usage is on the rise and choosing a company that can provide this service will protect your investment and allow your website to viewed by visitors on any device."
After the design was approved by Villa Penna Banquet & Restaurant – Momentum started an intensive development cycle where they programmed the design layouts and integrated them into a Content Management System that would allow their staff to maintain the website on their own without knowledge of HTML or advanced programming.
Along with a Content Management System (WordPress) and Responsive Web Design, Villa Penna's website now included new and exciting features such as online reservations (powered by OpenTable), a blog, photo gallery, contact forms, Google Maps for directions and last but not least – a visual banquet and restaurant menu that is sure to make your mouth water.
Now that Villa Penna Banquet & Restaurant has a new, cutting edge website they are hoping to get more exposure online and gain access to a whole new generation of customers. To learn more about about Villa Penna visit their new website at http://www.villapenna.com or stop by and say hello:
Villa Penna & Restaurant

43985 Hayes Rd.

Sterling Heights, MI 48313

p: 586.566.9900

f: 586.566.4965

info(at)villapenna(dot)com
About Momentum, LLC:

Momentum is an innovative Michigan-based web design firm headquartered in Clinton Township, MI. Over 100 Michigan businesses have choose Momentum to design, manage and market their corporate websites. For more information, contact James Plouffe at (586) 276-7496 or visit the company's website at http://www.seekmomentum.com/