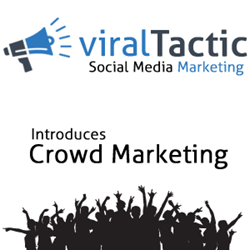 (PRWEB) April 03, 2014
ViralTactic, a social media marketing company, today announced the launch of its long-awaited service, Crowd Marketing. The service offers a way for individuals and businesses to effectively promote their Twitter accounts, YouTube videos and SoundCloud tracks by crowd sourcing already popular and influential social media users within their industry or niche.
There are tens of thousands of companies that offer Social Media Marketing, but the vast majority of them use unethical methods that garners little to no real results, said ViralTactic CEO German Calas. We knew there was a need for a social media marketing service that brought together the convenience and affordability customers wanted, with the results and scalability that they needed.
ViralTactic takes on these tasks, by offering its clients with three unique marketing tactics to promote their social media accounts and content starting at $ 49, including Crowd Marketing, Web Marketing and Search Engine Optimization. Each tactic utilizes a different advertising approach, reaches a different group within a target audience and offers both short-term and long-term benefits.
Their new flagship service, Crowd Marketing, encourages popular and influential users to mention, share and recommend clients or content to thousands of loyal followers and fans. A promotional tactic comparable to word-of-mouth, it has already been proven to not only help accounts and content gain more exposure, but also attract new fans, followers and subscribers in a short period of time. Peter, one of ViralTactics beta clients reviewed their service and stated [I] was amazed with the results just 2 days after ordering. I started getting a lot more mentions on Twitter, more followers, more messages and the traffic to my website spiked.
Unlike conventional methods of acquiring sponsored tweets or shares, ViralTactics Crowd Marketing service provides a much more streamline, hands-off and affordable approach. Instead of having customers search for relevant users and pay per tweet or share, Crowd Marketing switches the playing field. Customers simply need to provide their information and how many impressions they want, from 20,000 to over 1 Million. ViralTactic will then invite qualified, influential users to the campaign, where users may either accept or decline the offer based on the clients information. The end result – the client is promoted by multiple influential users who genuinely like them or their content, they reach and attract large, highly targeted audiences in a short period of time, and theyll save both time and money.
Their Crowd Marketing service is accompanied by two other complementary services, Web Marketing and SEO. Web Marketing helps clients garner both short-term and long-term results by getting their accounts, videos, music or other content mentioned throughout the web on relevant website and articles. Their SEO service strategically helps clients achieve higher ranking on search engines for steady, long-term organic traffic. In an a-la-carte style, clients are free to select any of these three services, and combine them based on their needs and budget.
ViralTactic has already assisted more than 2,000 clients promote their Twitter accounts, videos and music privately before launching, including popular agencies, small businesses, entrepreneurs, artists, actors and comedians in the US. With a satisfaction rate of 96%, they launch their service to the public boasting a Satisfaction Guarantee and a starting price of just $ 49. Their services are available on their website viraltactic.com.